9000E tronic WMS basin mixer, mains operation (without transformer)
9000E Tronic WMS basin mixer, LEED/BREEAM compliant, mains operation
The touch-free 9000E Tronic basin mixer is LEED and BREEAM compliant, saves water and energy and is simple and hygienic to use. It is made from a lead-free material which, in combination with its energy efficiency, can earn LEED points in the Materials category of the LEED building rating system.
The water temperature is easy to adjust using a knob on the side of the mixer. The knob can be locked to prevent the water from overheating and causing scalding, or it can be removed if the tap is to be used in environments where a preset temperature is needed. The mixer also has a programmable hygiene flushing function which prevents stagnant water from accumulating, thus reducing risk of bacterial growth in the water pipes.
And to obtain even more advanced functionality, the mixer can be connected to our innovative digital cloud service, Tronic WMS. This allows the mixers to be monitored, analysed and evaluated, providing valuable information which can be used to improve operation and use. Read more about the benefits of connected mixers.
About the collection
Our touch-free mixer taps are developed in Sweden and have a water- and energy-saving design. What's more, they help improve daily hygiene and safety because the tap can be used without touching the mixer. All the technology is integrated inside the mixer body, making the mixer as easy to install as a traditional basin mixer.
Description

Chrome, mains operation, without transformer

Article number

16416100
PROPERTIES
WMS-mixers with possibilities of wireless connection
Soft closing solenoid valve
Safe against vandalism, complete in metal
Eco (energy and water saving constant flow aerator, 5 l/min at 200–600 kPa)
Flush Timeout - safety shut-off to prevent flooding
Rinse time
Time limited shut-off (eg for cleaning)
Low power consumption - Long life
Equipped with function for thermal disinfection against legionella
Mains operation (excl. transformer)
IP class sensor, IP67
Approved non-return valves, EN-Standard EN1717
Environmental friendly material, Lead free, Nickel Free

Installation:
Automatic sensor calibration
After adjusting to the desired temperature, knob can be replaced with a lid
Mains operation requires installation of the power supply art.no. 1619-4000, alternatively transformer art.no. 1619-3000
Soft PEX® hoses with integrated non return valves and filters (stainless steel braided)
Hole diameter Ø33,5-37 mm

Tronic WMS:
With wireless connection to the Tronic WMS system (gateway and subscription required) alternatives via Dongel (1616-1000) the following opportunities are obtained:
- Programmable rinsing time from 10–60 seconds
- Built-in temperature measurements (measures output water temperature)
- Programmable temperature stop, the mixer will turn off directly at set maximum temperature
- Flush time control, prevents overflow, maximum flush time 5 min.
- Adjustable hygiene flushing, interval and flush time (to prevent water becoming stagnant)
- Logging of all flushings with point of time, water consumption and temperature. - Only with WMS
- Stagnation alarm (an alarm is emitted if the unit is not used within the set time) – Only with WMS
- Alarm via SMS or email – Only with WMS
Backflow protection unit type


DOCUMENTS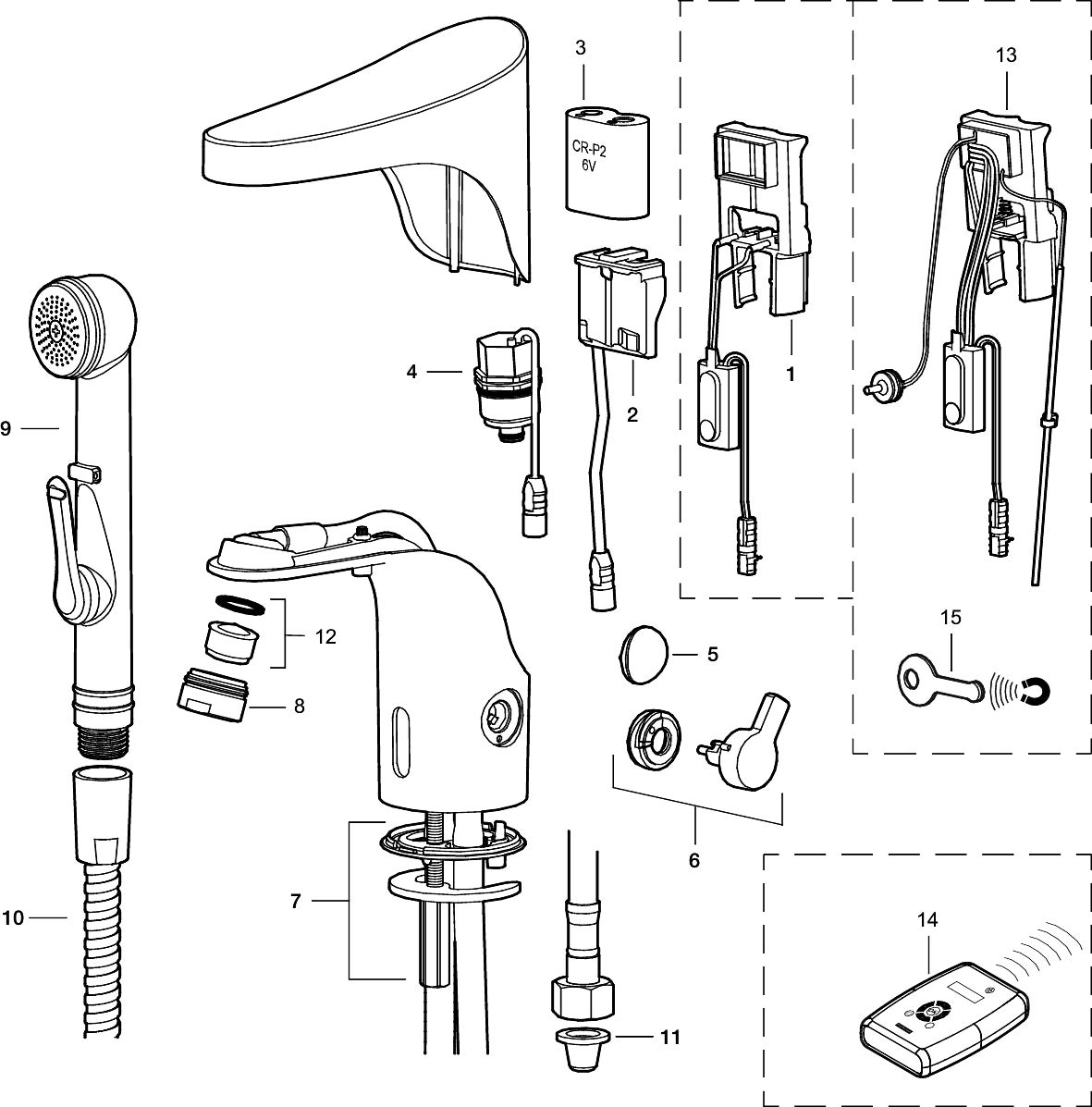 Enter your e-mail address, then the parts list will be sent to your inbox.
| No. | FMM No. | RSK | Description |
| --- | --- | --- | --- |
| 1 | 16214000 | 8553501 | Electronic unit, Stand. |
| 1 | 16216000 | 8553503 | Electronic unit, Centrally controlled |
| 2 | 16230000 | 8553506 | AC adapter |
| 3 | 16361000 | 8553510 | Battery |
| 4 | 16201000 | 8553500 | Solenoid valve |
| 5 | 16222000 | 8553505 | Cover plug |
| 6 | 16221000 | 8553504 | Lever |
| 7 | 39141600 | 8553512 | Fastening kit |
| 8 | 29142400 | 8281526 | Housing M24 ext., 13 mm |
| 9 | 34582000 | 8183841 | Self-closing hand shower |
| 10 | 34881500 | 8181594 | Shower hose, chrome, L=1,5 m |
| 11 | 38800009 | 8295340 | Filter kit Soft PEX 3/8", 2 pcs |
| 12 | 29100500 | 8281532 | Aerator insert, 5 l/min at 200–600 kPa |
| 13 | 16216100 | 8438811 | Electronic unit, for WMS mixer |
| 14 | 16250000 | 8553508 | Remote control |
| 15 | 60775000 | | Service magnet |