SILJAN kitchen mixer
Siljan is FM Mattsson's new signature collection. It includes a wide range of products with a strong focus on design and smart technology, in line with our vision of caring for people and the environment. Siljan is a natural choice for anyone who aspires to a sustainable lifestyle. A wide range of models guarantees that you will find exactly the right solution for your kitchen.
Description

Chrome, with ball-jointed aerator, connection flat end Ø10 mm

Article number

83013000
PROPERTIES
With ball-jointed aerator
EcoSafe® mixer
Cold Start
Ceramic cartridge with soft closing function
Adjustable flow control and temperature limiter
Eco Flow (energy and water saving aerator)
Swivel spout, limitation part for 60°, 85°, 110° or 360° included
With dish washer valve, switchable between cold and hot water. Pre-set on cold water
Soft PEX® hoses (stainless steel braided)
Hole diameter Ø34-37 mm
Backflow protection unit type

DOCUMENTS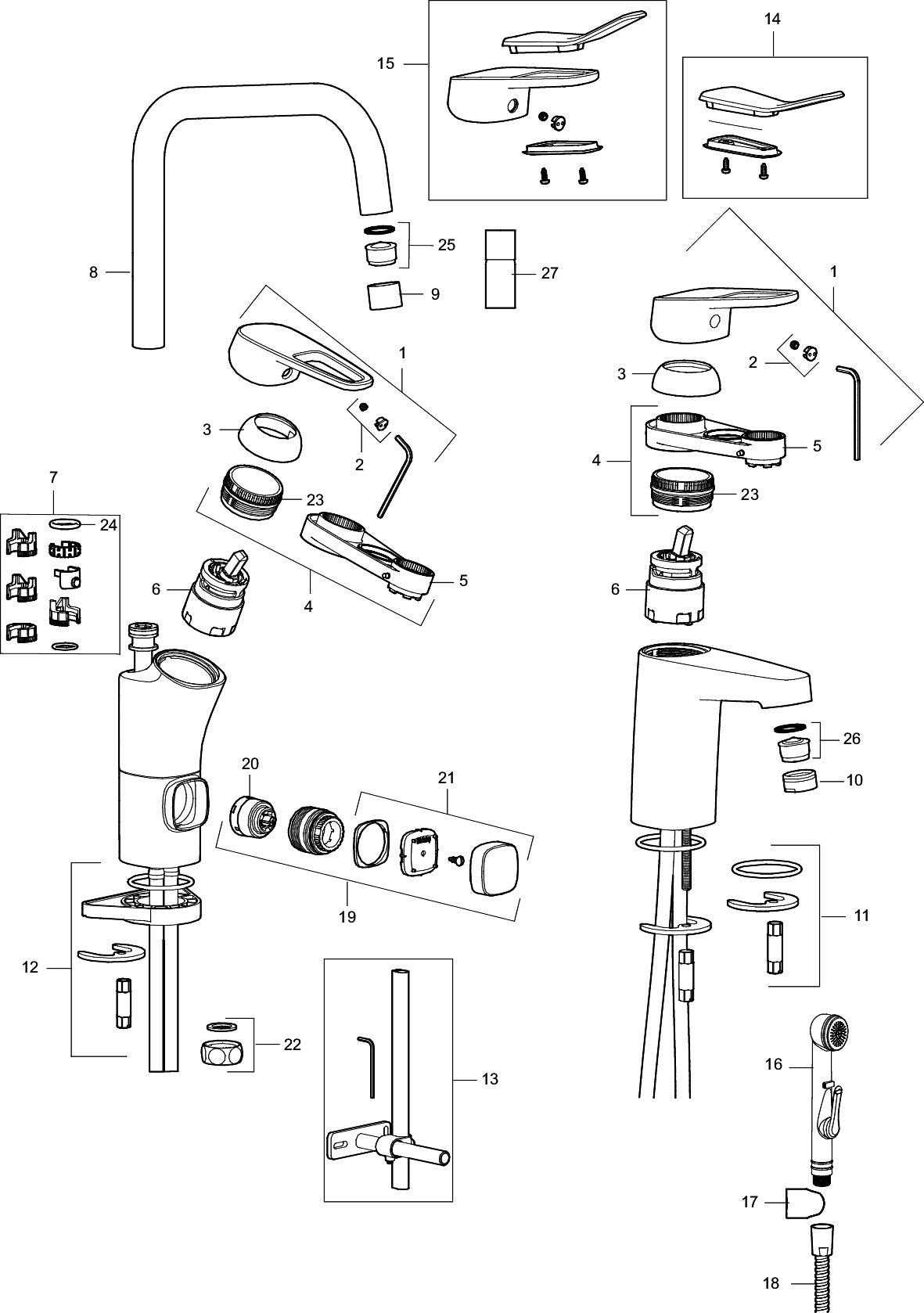 Enter your e-mail address, then the parts list will be sent to your inbox.
| No. | FMM No. | RSK | Description |
| --- | --- | --- | --- |
| 1 | 58501000 | 8592023 | Complete lever, chrome |
| 2 | 58511000 | 8592021 | Cover lid with colour marking |
| 3 | 58521000 | 8592020 | Cover sleeve, chrome |
| 4 | 58530140 | 8241726 | Fastening nipple with service tool |
| 5 | 60770000 | 8591918 | Service tool |
| 6 | 59120009 | 8591949 | Ceramic cartridge with service tool, cold start (green ring) |
| 6 | 59115500 | 8591947 | Ceramic cartridge with service tool, standard (red ring) |
| 6 | 59126000 | 8591966 | Ceramic cartridge with service tool, Eco Plus (green ring) |
| 7 | 58641000 | 8594560 | Lock kit for swivel spout |
| 8 | 58650000 | 8186897 | Spout, chrome |
| 9 | 29142200 | 8281524 | Housing M22 int. |
| 10 | 29142400 | 8281526 | Housing M24 ext., 13 mm |
| 11 | 39140800 | 8186891 | Fastening kit for basin mixer |
| 12 | 39142800 | 8186893 | Fastening kit, for kitchen mixer with on/off valve |
| 13 | 39147000 | 8592050 | Stabilizer kit |
| 14 | 35974009 | 8592038 | Care-kit |
| 15 | 58504000 | 8592049 | Care-lever, complete |
| 16 | 34580000 | 8183837 | Self-closing hand shower |
| 17 | 34093000 | 8186018 | Wall bracket, chrome |
| 18 | 34881500 | 8181594 | Shower hose, chrome, L=1,5 m |
| 19 | 59291000 | 8186896 | On/off valve for dishwasher, complete |
| 20 | 59271000 | 8591843 | Ceramic cartridge for dishwasher |
| 21 | 58281000 | 8592036 | Knob for dishwasher, chrome |
| 22 | 29651501 | 8531502 | Rough chrome plated |
| 23 | 29390000 | 8295356 | Fastening nipple |
| 24 | 37801550 | 8295350 | O-ring 15,54 x 2,62, 2 pcs |
| 25 | 29102290 | 8242220 | Aerator insert, 7–9 l/min at 300kPa |
| 25 | 29102890 | 8281533 | Aerator insert, 10–13 l/min at 300kPa |
| 26 | 29102910 | 8281534 | Aerator insert, 5,5–6,5 l/min at 300kPa |
| 26 | 29102710 | 8281528 | Aerator insert, 9–11 l/min at 300kPa |
| 26 | 29100500 | 8281532 | Aerator insert, 5 l/min at 200–600 kPa |
| 27 | 29285009 | 8242280 | Aerator M22 int., ball joint, 7–9 l/min at 300 kPa |