Thermostatic mixer Mora Safe
A new range of mixers for hospitals and customers that demands a legionella function. The legionella function is easily accessible without any disassembly. The mixers is delivered with a temperature stop ring with a safety stop at 38°C and a complete stop at 45°C. This means that it is easy to adjust the maximum temperature by adjusting the position of the stop ring.
Description

Chrome, incl. s-connection (2x701001)

Article number

702349.SA
PROPERTIES
Compensates temperature-and pressure fluctuations
Temperature handle with safety stop at 38°C, maximum temperature at 43°C
Equipped with function for thermal disinfection against legionella
Approved non-return valves, EN-Standard EN1717
Spout must be ordered separately
DOCUMENTS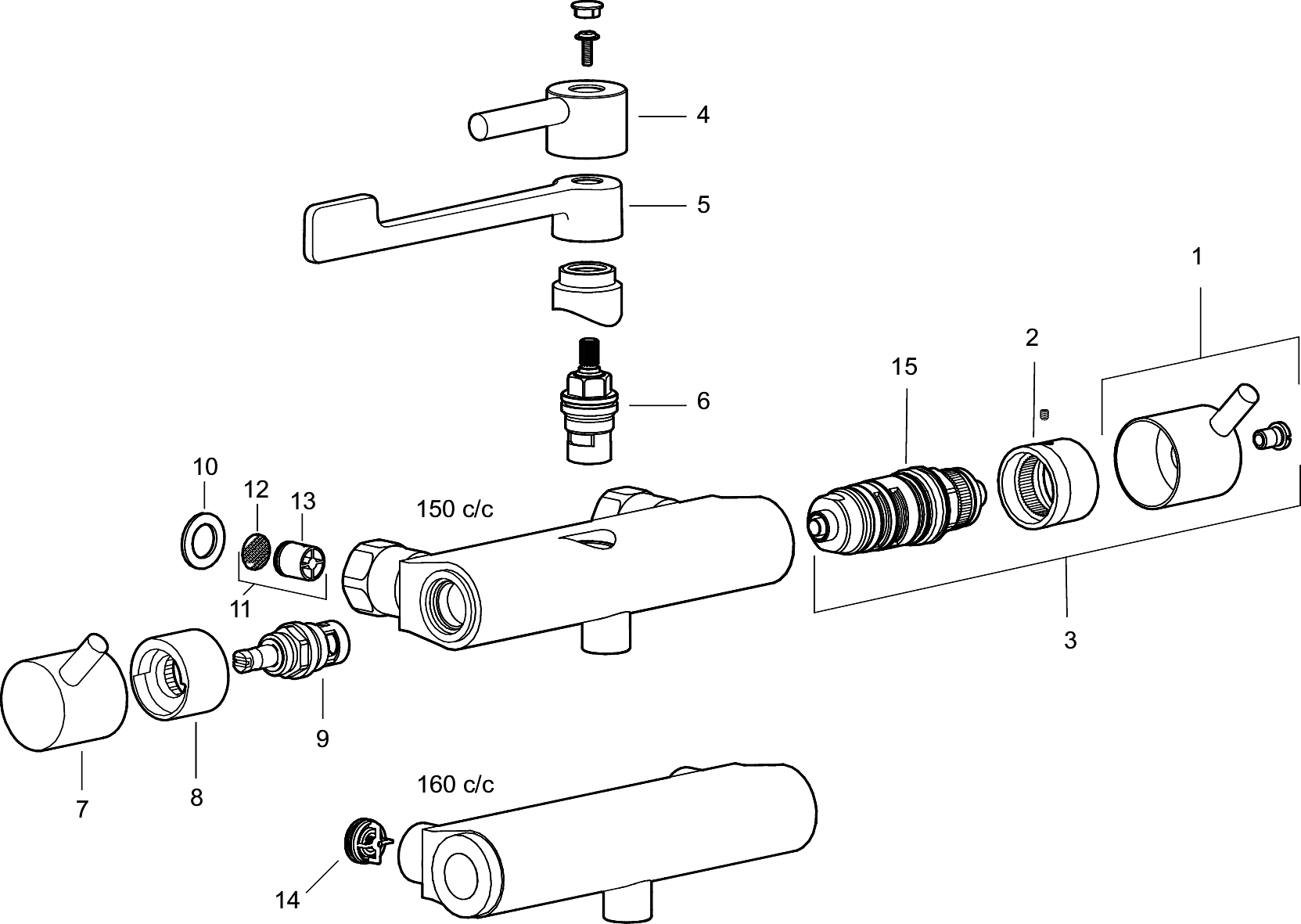 Enter your e-mail address, then the parts list will be sent to your inbox.
| No. | FMM No. | RSK | Description |
| --- | --- | --- | --- |
| 1 | 409463.AE | 8185714 | Temperature handle, complete, chrome |
| 2 | 409464.AE | 8345215 | Stop ring |
| 3 | 409465.AE | 8185713 | Kit (thermostatic cartridge, handle, stop ring) |
| 4 | 409468.AE | 8345213 | Lever, L=58 mm |
| 5 | 409469.AE | 8345214 | Lever, L=170 mm |
| 6 | 409369.AE | 8938270 | Headwork |
| 7 | 708450.AE | 8439686 | On/off handle, complete, chrome |
| 8 | 708451.AE | 8439689 | Stop ring for on/off handle, RH |
| 9 | 708467.AE | 8345124 | Headwork |
| 10 | 709339.AE | 8938274 | Gasket 24/15x2, 2 pcs |
| 11 | 708338.AE | | Non-return valve (2 pcs) |
| 12 | 708080.AE | | Holder for filter, complete |
| 13 | 139465.AE | 8186872 | Non-return valve, with lock ring |
| 14 | 129380.AE | 8345651 | Non-return valve (2 pcs) |
| 15 | 719169.AE | | Thermosatic cartridge, for thermal disinfection against legionella |