9000E tronic basin mixer, for premixed water, mains operation (without transformer)
FM Mattsson 9000E Tronic is a new generation of sensor operated mixers in Sweden. All technical parts are integrated in the mixer body for easy maintenance. The temperature is easily set by means of a lever at the side of the mixer. The lever can be fixed in order to
secure the mixer against scalding or alternatively remove the lever if you need only a fixed temperature. There is also a programmable function for hygienic flush that prevents the water to be stagnant too long and thereby prevents bacteria to grow.
Description

Chrome, mains operation, without transformer

Article number

16401000
PROPERTIES
For premixed water
Without temperature knob, mains operation (without transformer)
Soft closing solenoid valve
Safe against vandalism, complete in metal
Eco (energy and water saving constant flow aerator, 5 l/min at 200–600 kPa)
Flush Timeout - safety shut-off to prevent flooding
30 sec. rinse time via sensor
Can be turned off for 60 sec. (eg for cleaning)
Low power consumption - Long life
Equipped with system for thermal disinfection against legionella
IP class sensor, IP67
Approved non-return valves, EN-Standard EN1717
Environmental friendly material, Lead free, Nickel Free

Installation:
Automatic sensor calibration
All models can be adapted for either battery 6V or mains operation 12V AC/DC
Mains operation requires power supply FMM 1619-4000 alternatively transformer FMM 1619-3000
Soft PEX® hose with integrated non return valves and filters (stainless steel braided)
Hole diameter Ø33,5-37 mm

Settings:
Programmable function for hygiene flushing
Adjustable flush time
Backflow protection unit type


DOCUMENTS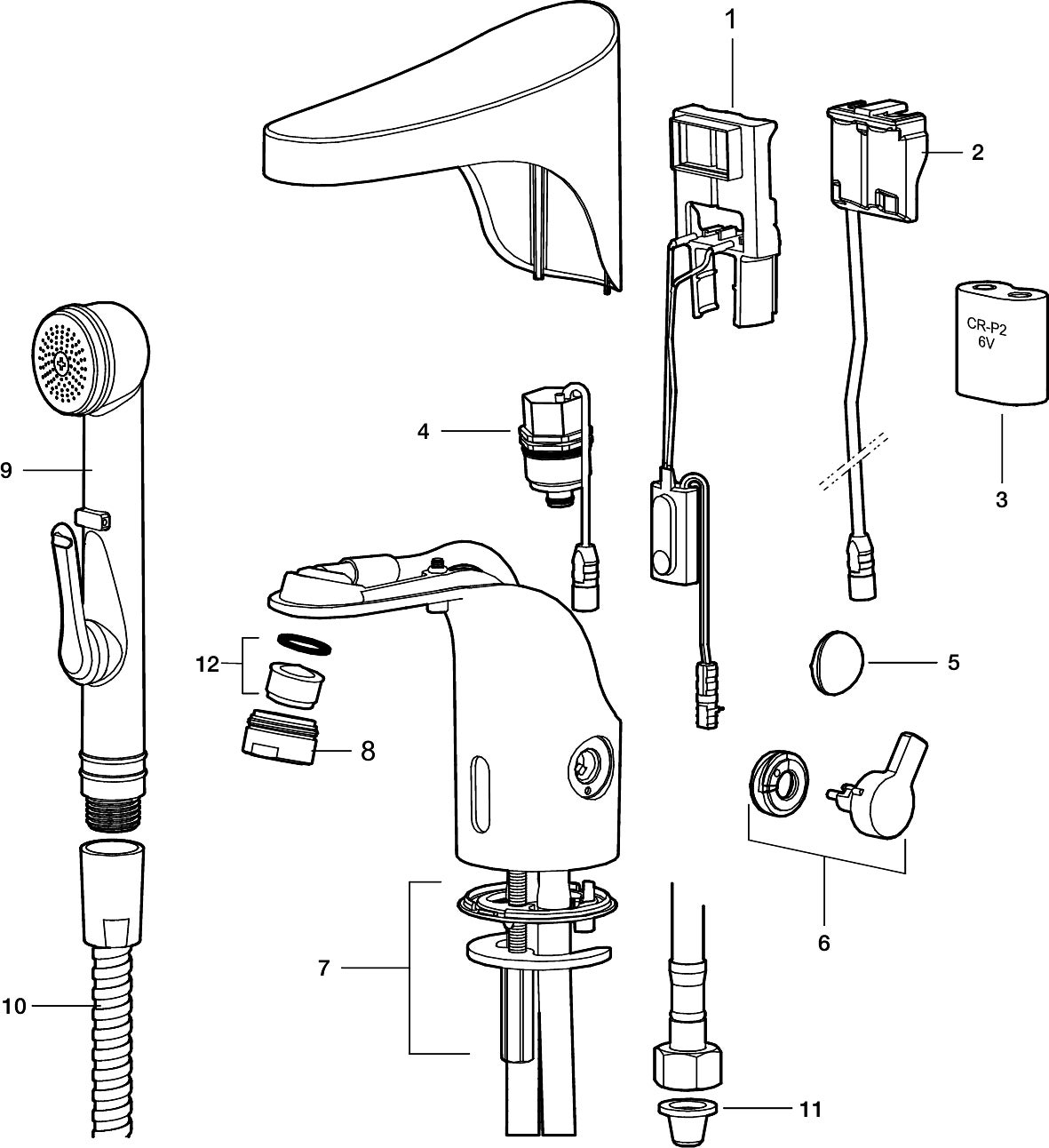 Enter your e-mail address, then the parts list will be sent to your inbox.
| No. | FMM No. | RSK | Description |
| --- | --- | --- | --- |
| 1 | 16214000 | 8553501 | Electronic unit, Stand. |
| 1 | 16216000 | 8553503 | Electronic unit, Centrally controlled |
| 2 | 16230000 | 8553506 | AC adapter |
| 3 | 16361000 | 8553510 | Battery |
| 4 | 16201000 | 8553500 | Solenoid valve |
| 5 | 16222000 | 8553505 | Cover plug |
| 6 | 16221000 | 8553504 | Lever |
| 7 | 39141600 | 8553512 | Fastening kit |
| 8 | 29142400 | 8281526 | Housing M24 ext., 13 mm |
| 9 | 34582000 | 8183841 | Self-closing hand shower |
| 10 | 34881500 | 8181594 | Shower hose, chrome, L=1,5 m |
| 11 | 38800009 | 8295340 | Filter kit Soft PEX 3/8", 2 pcs |
| 12 | 29100500 | 8281532 | Aerator insert, 5 l/min at 200–600 kPa |