SILJAN bath mixer
In the FM Mattsson Siljan collection, strong focus has been placed on design. Soft, curved shapes are used consistently to create a coordinated look. This, along with our energy-saving functions and well-known high quality, makes them very popular with plumbers.
Also see our FM Mattsson Siljan shower and bath packages – smart all-in-one solutions with an overhead shower or hand shower set.
Description

Chrome, 160 c/c

Article number

83900000
PROPERTIES
Pressure balanced thermostatic mixer
Swivel spout with built-in diverter
With ceramic sealed headwork
Temperature handle with safety stop at 38°C
With Eco-function
Approved non-return valves, EN-Standard EN1717
Backflow protection unit type

DOCUMENTS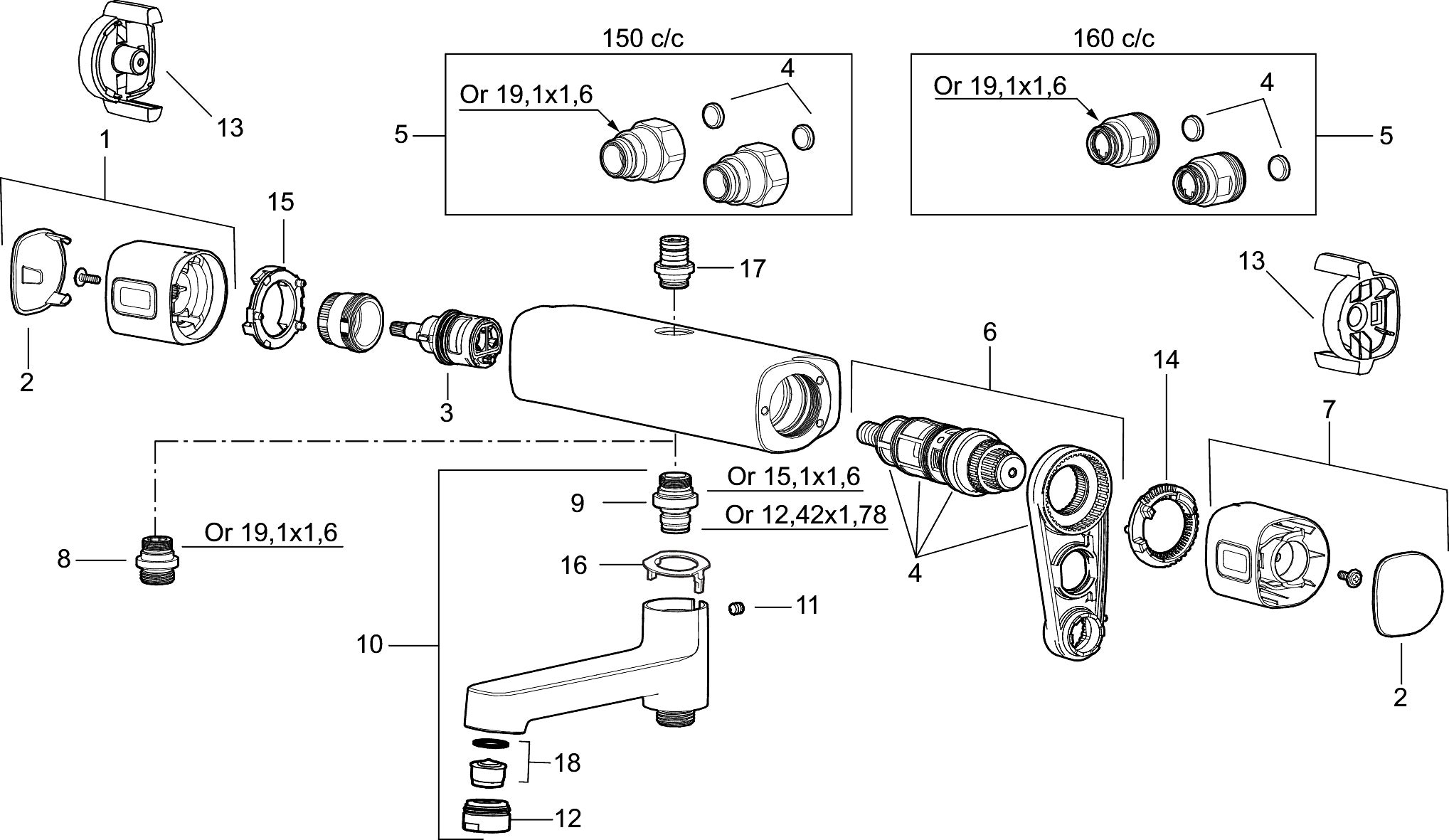 Enter your e-mail address, then the parts list will be sent to your inbox.
| No. | FMM No. | RSK | Description |
| --- | --- | --- | --- |
| 1 | 35480009 | 8592029 | On/off handle, complete |
| 2 | 39031500 | 8592052 | End cover, 2 pcs |
| 3 | 35980009 | 8585850 | Ceramic on/off headwork, reversible |
| 4 | 38680009 | 8591701 | Filter kit incl. o-rings and service tool |
| 5 | 59800800 | 8592005 | Inlet connectors, 160 c/c |
| 5 | 59810800 | 8592006 | Inlet connectors 150 c/c (left-handed thread) |
| 6 | 38601009 | 8591609 | Thermostatic cartridge, complete, incl. service tool |
| 7 | 35480109 | 8592033 | Temperature handle, complete |
| 8 | 39710800 | 8591967 | Nipple M18x1-G1/2 for shower mixer |
| 9 | 39754000 | 8591969 | Nipple M18x1 with o-ring for bath mixer |
| 10 | 83990000 | 8154079 | Swivel spout with integrated diverter |
| 11 | 38086000 | 8439701 | Locking screw |
| 12 | 29142400 | 8281526 | Housing M24 ext., 13 mm |
| 13 | 35976209 | 8592039 | Care-handle, black, 2 pcs |
| 14 | 38523000 | 8592058 | Scalding protection ring |
| 15 | 38531000 | 8592059 | Stop ring, standard |
| 15 | 38531040 | 8592060 | Stop ring, reversible |
| 16 | 38521000 | 8295345 | Stop ring |
| 17 | 39716000 | | Nipple M18x1 |
| 18 | 29102650 | 8281547 | Aerator insert, 20–24 l/min at 300 kPa |