Head shower set Siljan
Our new FM Mattsson Siljan collection combines design with eco-friendly and energy-saving functions without compromising on comfort. The Siljan shower range includes a wide selection of overhead shower and hand shower sets.
The showers can be combined with a Siljan thermostatic shower or bath mixer. Or make things simple by choosing one of our smart all-in-one overhead or hand shower sets.
Description

Chrome

Article number

83920000
PROPERTIES
Hand shower with 3 shower jet settings and diverter
Eco Flow, hand shower 9 l/min and head shower 12 l/min
Anti lime-scale head- and hand shower
With soap dish
Flexible wall bracket ±5 mm in height and 50–100 mm from wall, 2x18 mm spacers included, with sealing, hidden pipe joint
Shower pipe can be shortened if required
Energy class
DOCUMENTS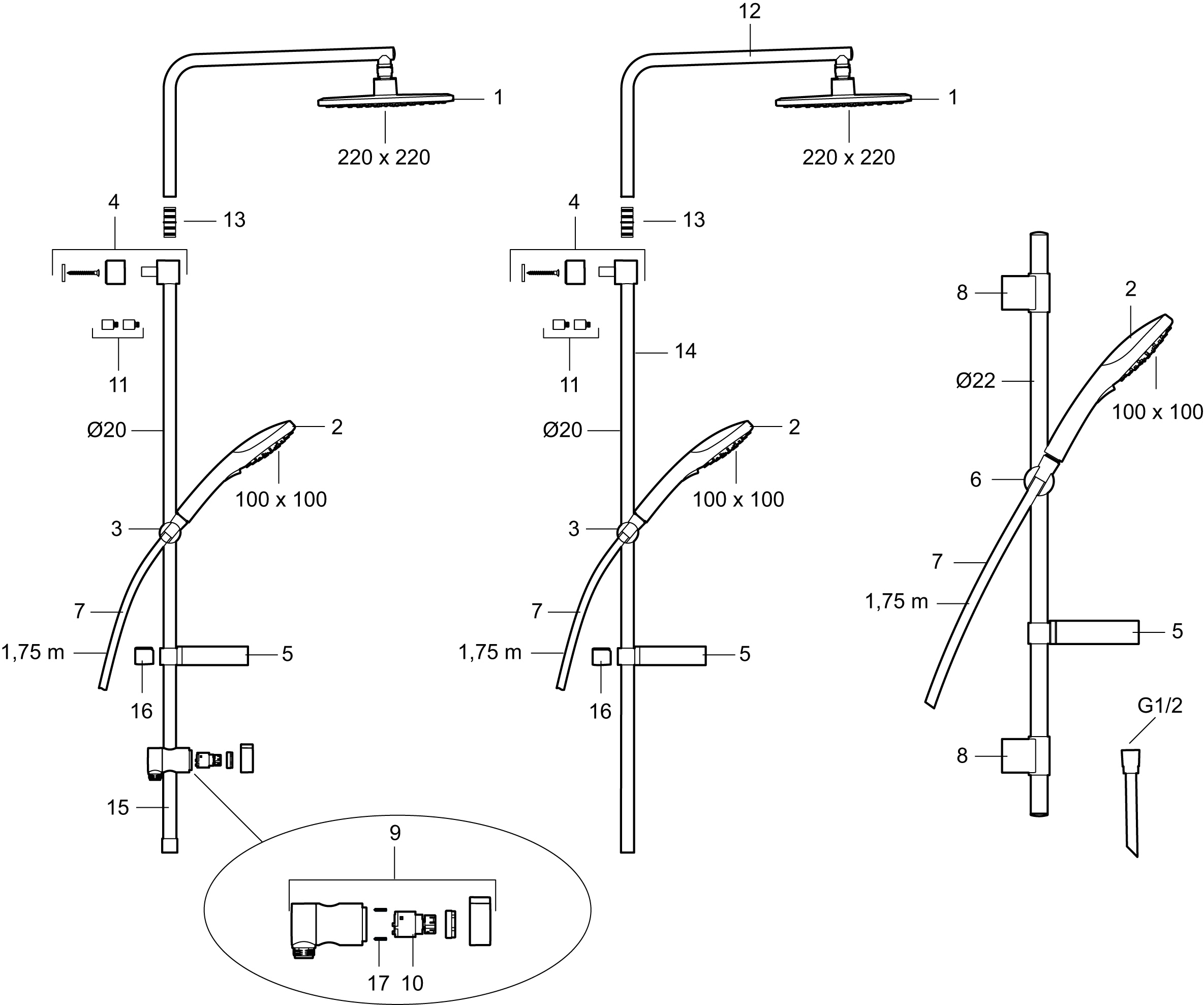 Enter your e-mail address, then the parts list will be sent to your inbox.
| No. | FMM No. | RSK | Description |
| --- | --- | --- | --- |
| 1 | 83890000 | 8180620 | Shower head |
| 2 | 83753900 | 8199262 | Hand shower |
| 3 | 94782000 | 8185652 | Slider |
| 4 | 94712000 | 8186605 | Wall bracket |
| 5 | 94641000 | 8185653 | Soap dish |
| 6 | 94781000 | 8185651 | Slider |
| 7 | 34841750 | 8181618 | Shower hose, chrome |
| 8 | 83710000 | 8186586 | Wall bracket |
| 9 | 58902000 | 8190734 | Diverter, complete |
| 10 | 59240000 | 8190735 | Cartridge |
| 11 | 27925000 | 8180419 | Extender, 18 mm, 2 pcs |
| 12 | 58943000 | 8217833 | Upper bar |
| 13 | 27930000 | 8221726 | Joint |
| 14 | 58931000 | 8217832 | Lower bar |
| 15 | 58921000 | 8217831 | Extension bar |
| 16 | 39391000 | 8221716 | Distance ring for Ø18, Ø20 and Ø22 mm pipe |
| 17 | 38080700 | 8295337 | Stop screw M5x20 |