9000 safety bath mixer
9000 is FM Mattsson's best selling mixer range, and is installed in more Swedish homes than any other mixer today. It has a classic, harmonious design, and the safety mixer features several unique technical innovations. It quickly fills the bath, and maintains constant temperature in all situations. Safe and comfortable, without risk of scalding.

Description

Chrome

Article number

92007500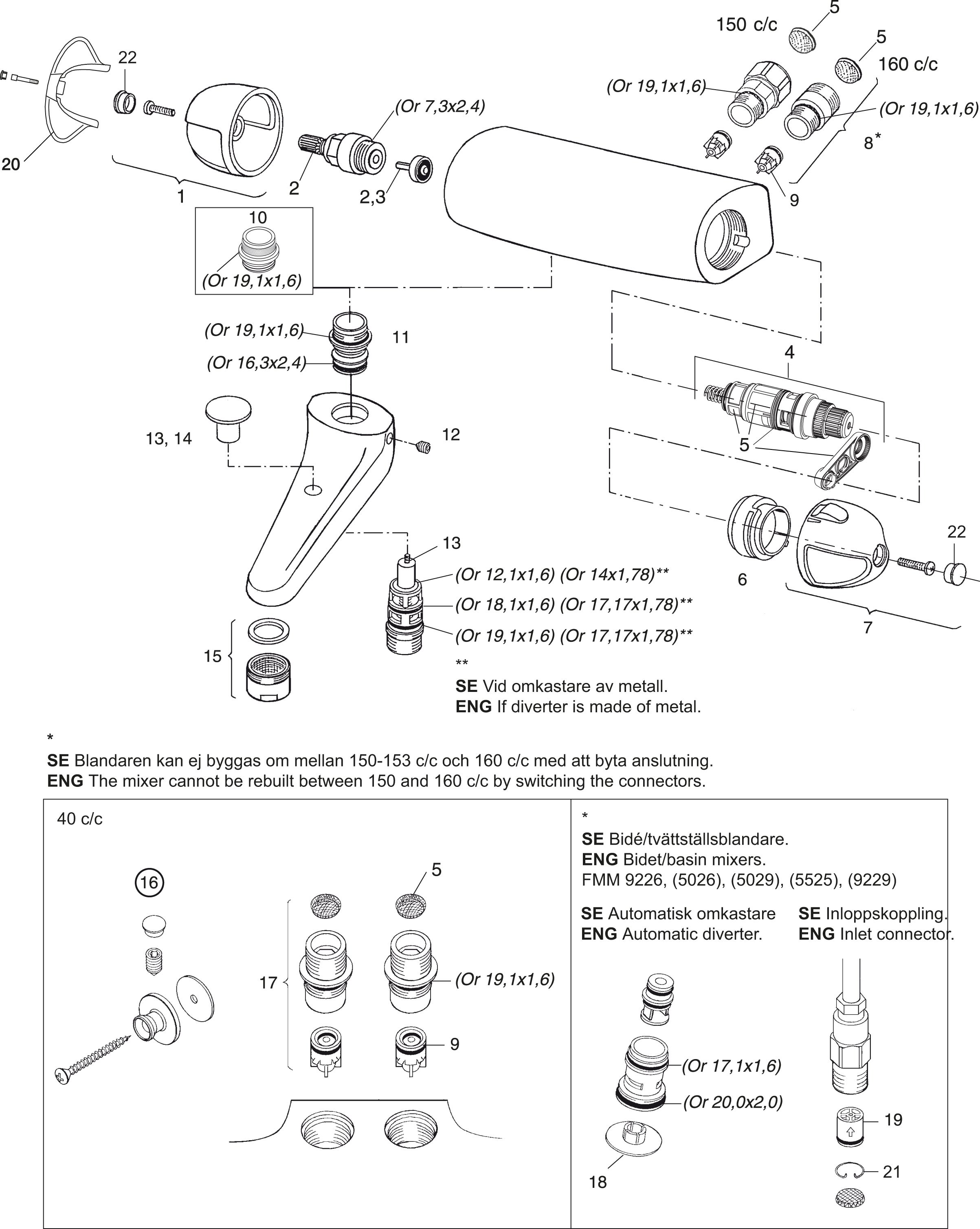 Enter your e-mail address, then the parts list will be sent to your inbox.
| No. | FMM No. | RSK | Description |
| --- | --- | --- | --- |
| 1 | 35930009 | 8591548 | On/off handle, chrome |
| 2 | 35201400 | 8585846 | On/off headwork with valve cone |
| 3 | 36001500 | 8913411 | Valve cone |
| 3 | 36001549 | 8913436 | Valve cone, 10 pcs |
| 4 | 38601009 | 8591609 | Thermostatic cartridge, complete, incl. service tool |
| 5 | 38680009 | 8591701 | Filter kit incl. o-rings and service tool |
| 6 | 38520007 | 8591592 | Scalding protection ring, standard (black) |
| 7 | 35940009 | 8591551 | Temperature handle, chrome |
| 8 | 59800000 | 8591543 | Inlet connectors, 160 c/c |
| 8 | 59810000 | 8591544 | Inlet connectors 150-153 c/c (left-handed thread) |
| 9 | 29830529 | 8591702 | Non-return valves, 2 pcs |
| 10 | 39710000 | 8591571 | Nipple M22x1-G1/2 for shower mixer |
| 11 | 39750100 | 8591621 | Nipple |
| 12 | 38730006 | 8591623 | Locking screw |
| 13 | 39412000 | 8591533 | Diverter, complete, without locking ring, 9000 |
| 14 | 39421000 | 8591540 | Diverter knob |
| 15 | 29032839 | 8242060 | Aerator M28 ext., 24–26 l/min at 300 kPa |
| 16 | 29712000 | 8591530 | Wall bracket for 40 c/c mixers, complete |
| 17 | 59820000 | 8591545 | Inlet connector for 40 c/c mixer |
| 18 | 38690000 | 8591633 | Cover lid, chrome |
| 19 | 29831529 | 8591641 | Non-return valves, 2 pcs |
| 20 | 35970130 | 8591546 | Wing (grey) |
| 21 | 37120000 | 8295342 | Locking ring |
| 22 | 39030000 | 8295347 | End cover, chrome, 2 pcs |