GARDA basin mixer
Garda is a range of mixers with a clean, minimalist design. A Garda mixer enhances your overall bathroom interior with its perfect fusion of technology and design. You notice it as soon as you grip the optimally balanced lever. A soft-close mechanism and a ceramic seal are standard features. Garda is a perfect example of an intelligent interior enclosed in a beautiful exterior.

Description

Chrome, with CU pipes Ø10 mm

Article number

96535000
PROPERTIES
With push-down waste
Ceramic cartridge with soft closing function
Adjustable flow control and temperature limiter
Backflow protection unit type

DOCUMENTS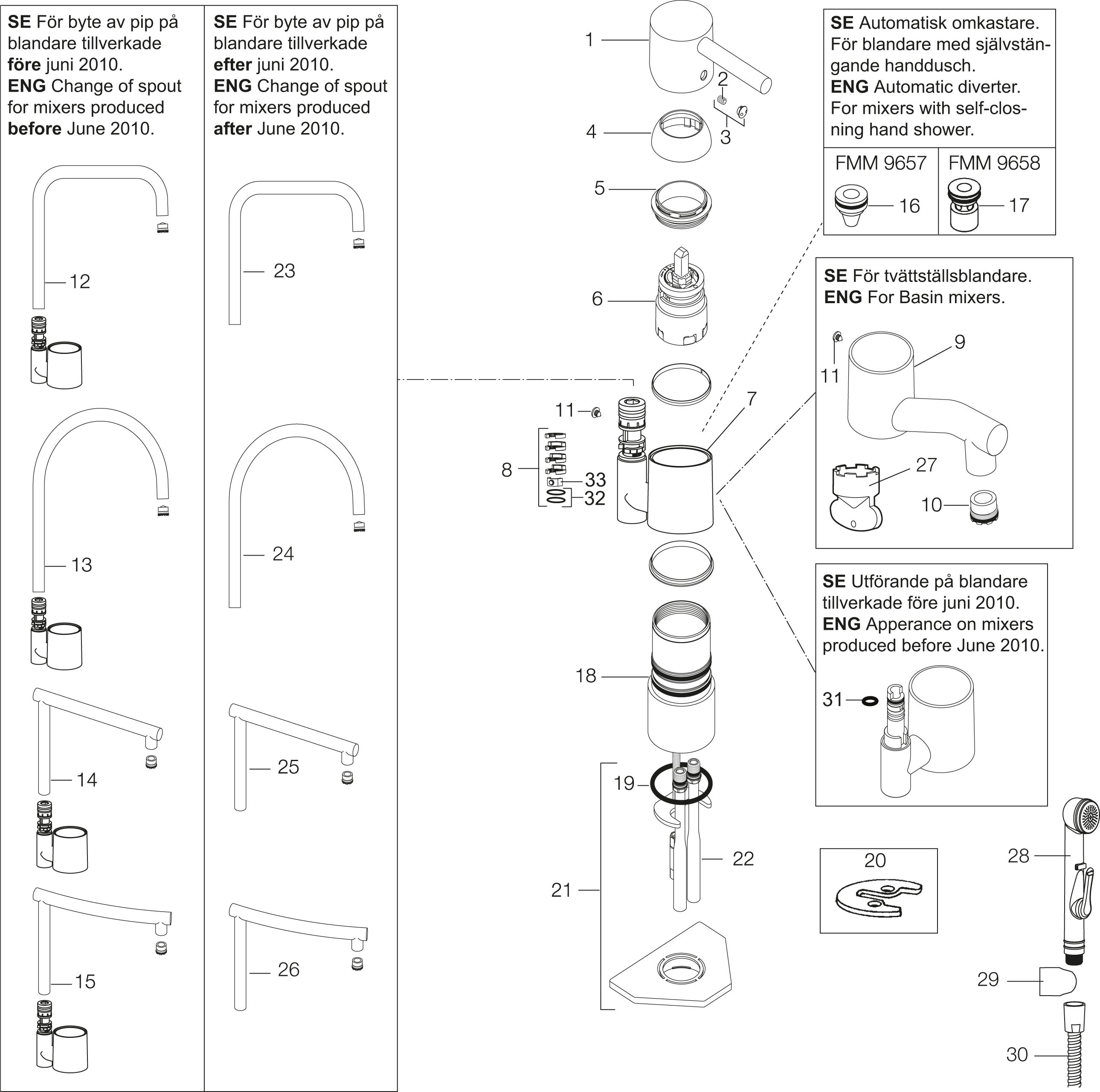 Enter your e-mail address, then the parts list will be sent to your inbox.
| No. | FMM No. | RSK | Description |
| --- | --- | --- | --- |
| 1 | 59400000 | 8591864 | Lever, complete, L=95 mm |
| 2 | 38730006 | 8591623 | Locking screw |
| 3 | 59410000 | 8591863 | Cover lid with colour marking |
| 4 | 59330000 | 8591829 | Cover ring, chrome |
| 5 | 38051000 | 8241719 | Fastening nipple,chrome |
| 6 | 59110000 | 8591770 | Ceramic cartridge (red ring), not cold start |
| 7 | 59782000 | 8154090 | Sleeve for spout with socket and stop screw |
| 8 | 58640000 | 8594555 | Lock kit for swivel spout |
| 9 | 59700000 | 8154047 | Spout for basin mixer with aerator and stop screw |
| 10 | 59752200 | 8242199 | Aerator M21,5 ext., 7–9 l/min at 300 kPa |
| 11 | 38080000 | 8241723 | Stop screw |
| 12 | 59712500 | 8154083 | Swivel spout for Garda I kitchen mixer, with aerator |
| 13 | 59722500 | 8154085 | Swivel spout for Garda II kitchen mixer, with aerator |
| 14 | 59732500 | 8154087 | Swivel spout for Garda III kitchen mixer, with aerator |
| 15 | 59742500 | 8154089 | Swivel spout for Garda IV kitchen mixer, with aerator |
| 16 | 37731705 | 8242261 | Diverter, ejector, Modell 2005- |
| 17 | 37731005 | 8242259 | Diverter, ejector |
| 18 | 37204029 | 8593089 | Sealing rings, 2 pcs |
| 19 | 37802850 | 8141748 | O-ring 42,2x3,0 |
| 20 | 39070016 | 8141755 | Fastening plate for two screws |
| 21 | 39141000 | 8186888 | Fastening kit, for mixers without on/off valve |
| 22 | 39101500 | 8591858 | Connection pipes, CU 10x392, raw brass (for mixers without on/off valve) |
| 22 | 39101000 | 8591859 | Connecting Pipes , CU 10x363, chrome (for basin mixers) |
| 23 | 59712000 | 8154082 | Swivel spout for Garda I kitchen mixer, with aerator |
| 24 | 59722000 | 8154084 | Swivel spout for Garda II kitchen mixer, with aerator |
| 25 | 59732000 | 8154086 | Swivel spout for Garda III kitchen mixer, with aerator |
| 26 | 59742000 | 8154088 | Swivel spout for Garda IV kitchen mixer, with aerator |
| 27 | 60841000 | 8591891 | Key for aerator M21,5 x 1 |
| 28 | 34580000 | 8183837 | Self-closing hand shower |
| 29 | 34093000 | 8186018 | Wall bracket, chrome |
| 30 | 34881500 | 8181594 | Shower hose, chrome, L=1,5 m |
| 31 | 37801158 | 8594540 | O-ring 10,1 x 1,6, 2 pcs |
| 32 | 37801550 | 8295350 | O-ring 15,54 x 2,62, 2 pcs |
| 33 | 58642000 | 8295339 | Fixed plug, 2 pcs, (black/grey) |