9000 kitchen mixer
The FM Mattsson 9000 kitchen mixer has a harmonious, classic design. Standard features include a hot water lock, adjustable flow control, a soft-close mechanism and a ceramic seal. These features eliminate the risk of scalding, and protect the pipes by preventing water hammering. With its popular, user-friendly design, this has been Sweden's best selling mixer for many years.


Description

Chrome, with CU Ø10 mm

Article number

91100000
PROPERTIES
Ceramic cartridge with soft closing function
Adjustable flow control and temperature limiter
Swivel spout 110°
Hole diameter Ø28 mm
Backflow protection unit type

DOCUMENTS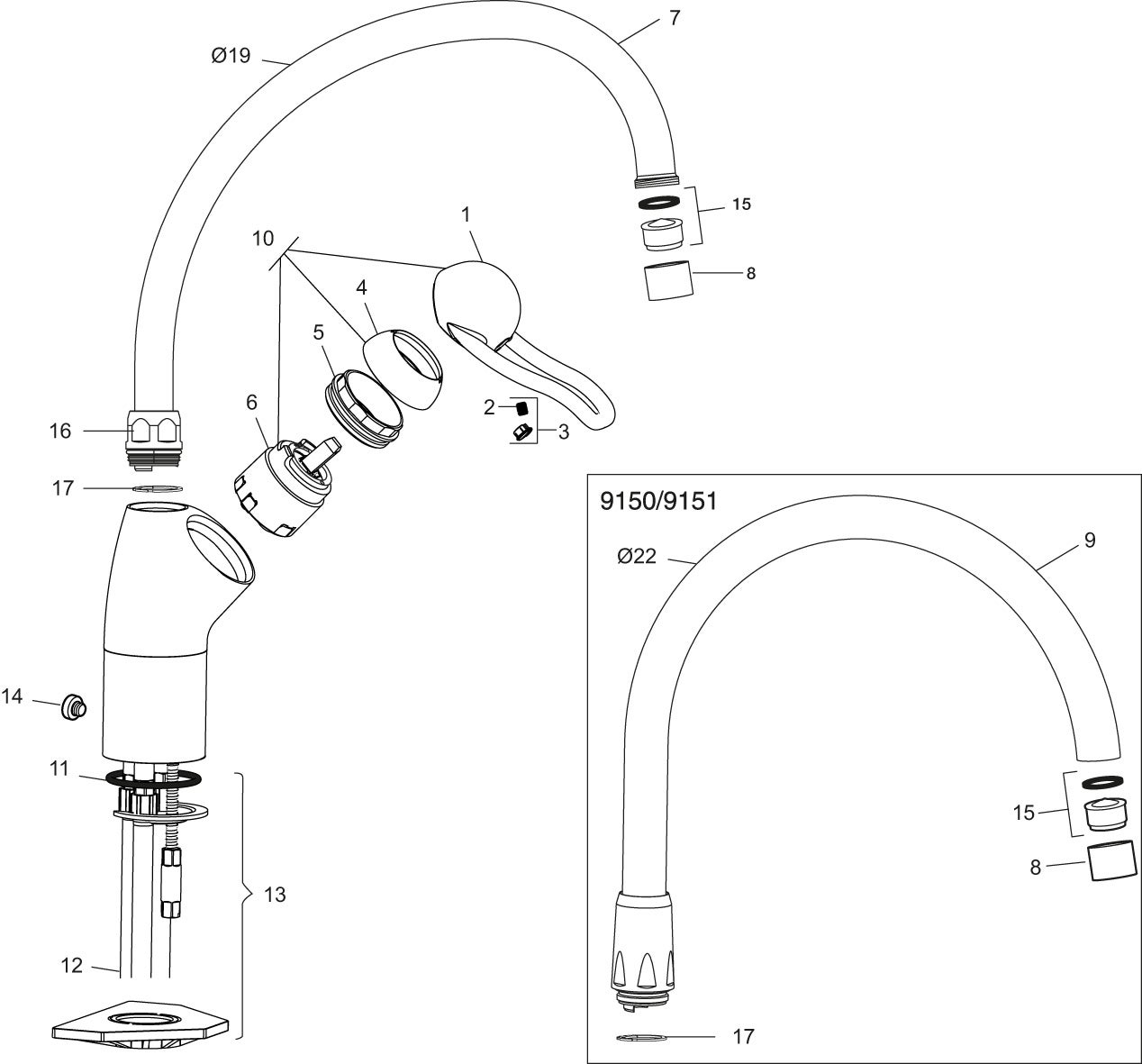 Enter your e-mail address, then the parts list will be sent to your inbox.
| No. | FMM No. | RSK | Description |
| --- | --- | --- | --- |
| 1 | 59310000 | 8591763 | Lever, complete, L=110 mm, chrome |
| 1 | 59311450 | 8591827 | Lever, complete, L=145 mm, chrome |
| 1 | 59351900 | 8591832 | Lever, complete, L=190 mm, chrome (not loop handle) |
| 1 | 59352900 | 8591833 | Lever, complete, L=290 mm, chrome (not loop handle) |
| 2 | 38731006 | 8591765 | Lock screw |
| 3 | 59320000 | 8591766 | Cover lid with colour marking |
| 4 | 59330000 | 8591829 | Cover ring, chrome |
| 5 | 38050002 | 8242233 | Fastening nipple |
| 6 | 59110000 | 8591770 | Ceramic cartridge (red ring), not cold start |
| 6 | 59120000 | 8591769 | Ceramic cartridge (green ring), cold start |
| 7 | 38170000 | 8154016 | Spout, chrome |
| 8 | 29142200 | 8281524 | Housing M22 int. |
| 9 | 59200000 | 8154050 | Spout Ø22, chrome |
| 10 | 59303000 | 8591821 | Soft closing headwork, complete, with lever 110 mm, chrome |
| 11 | 37802850 | 8141748 | O-ring 42,2x3,0 |
| 12 | 39101500 | 8591858 | Connection pipes, CU 10x392, raw brass (for mixers without on/off valve) |
| 13 | 39141000 | 8186888 | Fastening kit, for mixers without on/off valve |
| 14 | 38740100 | 8295344 | Plug M10x1 |