MEDICARE basin mixer
Basin mixer MEDICARE is made from a lead-free material and it have a clean visual design with round, smooth lines, and joints have been kept to a minimum. The mixer lever is 179 mm and has clear colour marks. The mixer also has a extra-long spouts to easily access the water jet. The aerator is angled at 32 degrees, which optimizes the aim of the water jet in the basin. The mixer also has FM Mattsson's well-known energy-saving solutions and functions such as cold start and soft closing.
About the collection
FM Mattsson MEDICARE collection has been designed in close collaboration with healthcare professionals. A new collection that emphasis on hygiene, accessibility and sustainability and has been developed to meet the specific needs of the healthcare sector and make daily life easier for people with reduced mobility and orientation capacity.
Description

Chrome, connection CU Ø10 mm

Article number

32504110
PROPERTIES
EcoSafe® mixer
Cold Start
Ceramic cartridge with soft closing function
Lever: 179 mm
Adjustable flow control and temperature limiter
Aerator without air admixture, constant flow 6 l/min at 200–600 kPa, angled 32°
Connection pipes, chromed CU Ø10 mm
Extra long spout reduces risk of water jet spraying onto the basin's waste. Spout projection 124 mm
Hygienic design, lever and mixer body without dividing lines
Lead Free material

Acoustic group 1 (ISO 3822)

Hole diameter Ø28-37 mm
Backflow protection unit type

DOCUMENTS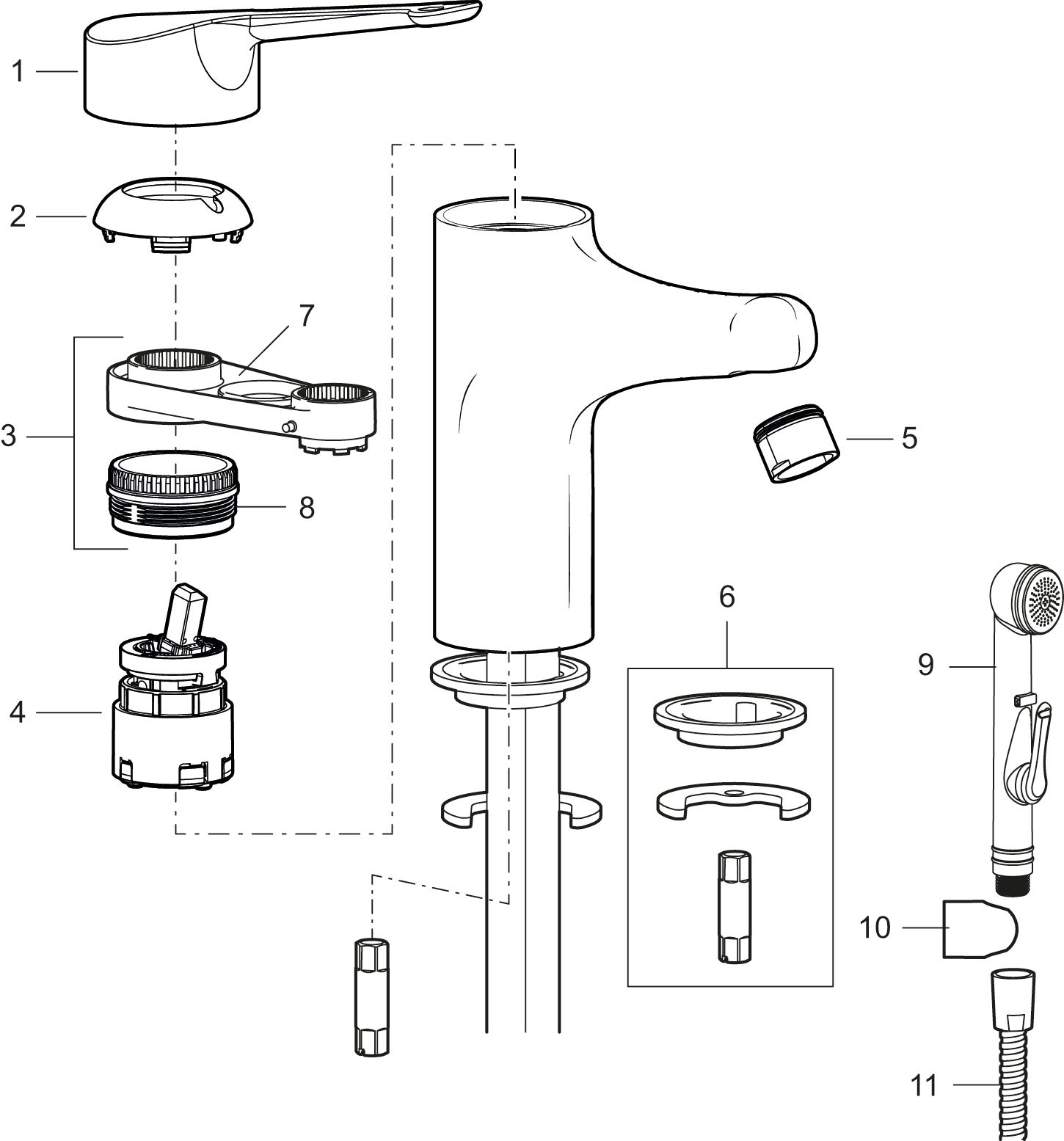 Enter your e-mail address, then the parts list will be sent to your inbox.
| No. | FMM No. | RSK | Description |
| --- | --- | --- | --- |
| 1 | S600063 | 8394131 | Lever, complete, L=150 mm |
| 1 | S600062 | 8394130 | Lever, complete, L=190 mm |
| 2 | S600064 | 8394132 | Cover ring |
| 3 | 58530140 | 8241726 | Fastening nipple with service tool |
| 4 | 59120009 | 8591949 | Ceramic cartridge with service tool, cold start (green ring) |
| 5 | S600065 | 8281672 | Aerator M24 ext., 6 l/min at 200–600 kPa |
| 6 | 39140800 | 8186891 | Fastening kit for basin mixer |
| 7 | 60770000 | 8591918 | Service tool |
| 8 | 29390000 | 8295356 | Fastening nipple |
| 9 | 34580000 | 8183837 | Self-closing hand shower |
| 10 | 34093000 | 8186018 | Wall bracket, chrome |
| 11 | 34881500 | 8181594 | Shower hose, chrome, L=1,5 m |
modal.bvb.desc;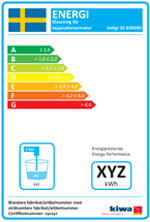 Accepted installation instructions
Safe Water Installation (Säker Vatteninstallation) is a set of industry* regulations to safeguard the quality of sanitary installations, prevent injury and damage and ensure compliance with the building regulations of the Swedish National Board of Housing, Building and Planning (Boverket).

Leadfree
Lead Free means that we have eliminated the lead that is normally found in brass alloys. This will reduce environmental impact of the products. Products classified as Lead Free contain less than 0.1 % lead.

Energyclass
Energy labelling is an objective rating system that shows exactly how much energy a mixer uses. The system was developed by a number of players including sanitary fittings manufacturers, building companies, property owners and authorities such as the Swedish Energy Agency. It is based on standardised laboratory tests and certification rules. Its aim is simple: to offer impartial help for buyers, installation firms, air conditioning consultants and consumers. The mixer's energy performance is assessed by measuring and registering water pressure, mixed water temperature and flushing time for twelve different activities. The values registered for each of these activities are added together to obtain a total energy consumption value, which is displayed on the label. This total value determines the mixer's energy rating.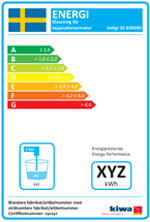 modal.sundahus.title
modal.sundahus.desc