9000E basin mixer
An optimal fusion of design and function. The FM Mattsson 9000E range ushers in a new generation of mixers that are environmentally engineered down to the last detail. The mixer brings beauty and technical perfection to your bathroom. Even in its basic version, the mixer has unique functions that save energy without compromising on comfort.
Description

Chrome, connection flat end Ø10 mm, energy class B

Article number

80635000
PROPERTIES
With push-down waste
EcoSafe® mixer
Cold Start
Ceramic cartridge with soft closing function
Adjustable flow control and temperature limiter
Eco Flow (energy and water saving aerator)
Soft PEX® hoses (stainless steel braided)
Backflow protection unit type

Energy class
DOCUMENTS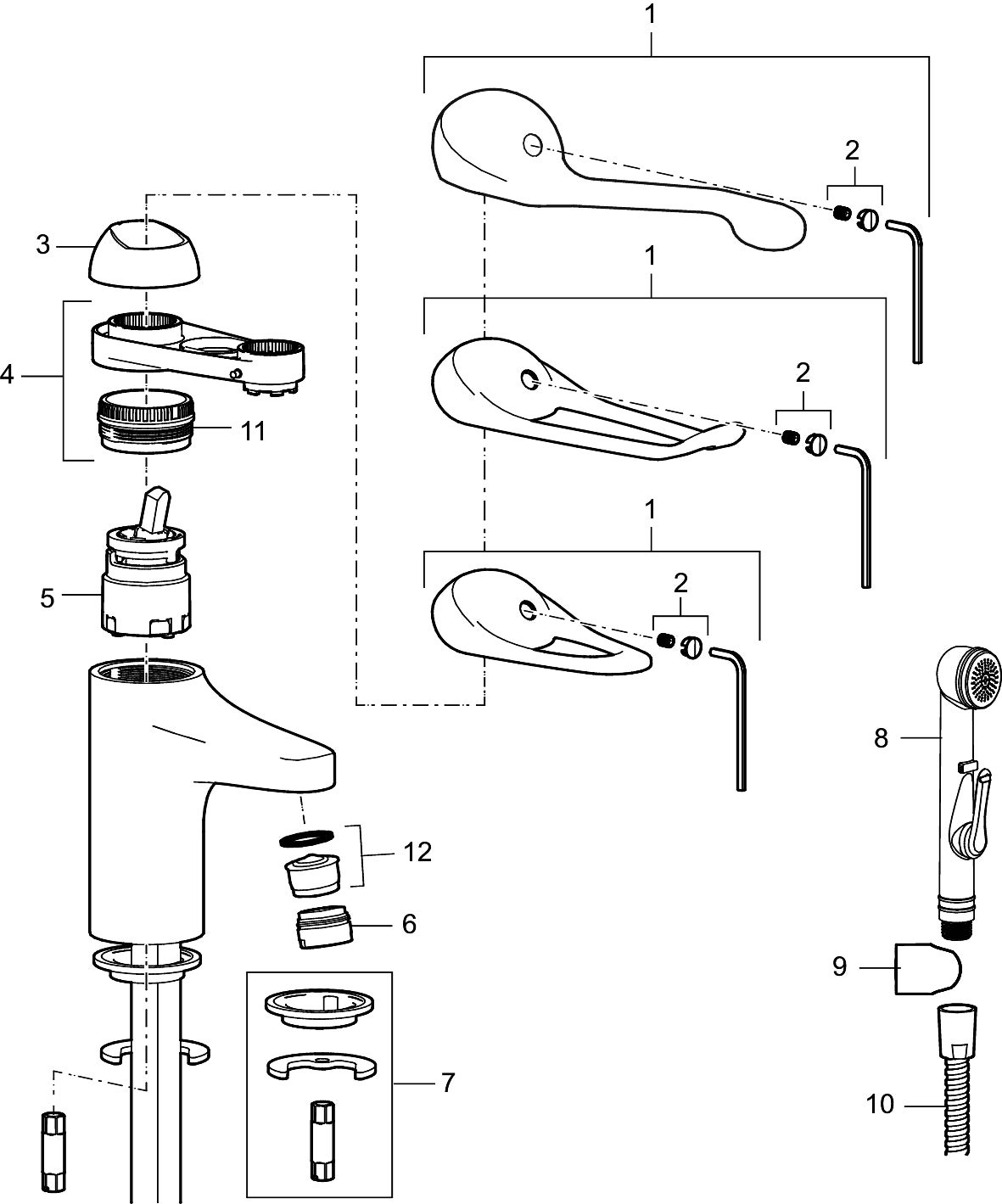 Enter your e-mail address, then the parts list will be sent to your inbox.
| No. | FMM No. | RSK | Description |
| --- | --- | --- | --- |
| 1 | 58500000 | 8591936 | Lever, complete, L=90 mm |
| 1 | 58501750 | 8591937 | Lever, complete, L=150 mm |
| 1 | 58501800 | 8592048 | Lever, complete, L=180 mm |
| 2 | 58510000 | 8591944 | Cover lid with colour marking |
| 3 | 58520000 | 8591945 | Cover sleeve |
| 4 | 58530140 | 8241726 | Fastening nipple with service tool |
| 5 | 59120009 | 8591949 | Ceramic cartridge with service tool, cold start (green ring) |
| 5 | 59126000 | 8591966 | Ceramic cartridge with service tool, Eco Plus (green ring) |
| 6 | 29142400 | 8281526 | Housing M24 ext., 13 mm |
| 7 | 39140800 | 8186891 | Fastening kit for basin mixer |
| 8 | 34580000 | 8183837 | Self-closing hand shower |
| 9 | 34093000 | 8186018 | Wall bracket, chrome |
| 10 | 34881500 | 8181594 | Shower hose, chrome, L=1,5 m |
| 11 | 29390000 | 8295356 | Fastening nipple |
| 12 | 29102910 | 8281534 | Aerator insert, 5,5–6,5 l/min at 300kPa |
| 12 | 29102710 | 8281528 | Aerator insert, 9–11 l/min at 300kPa |
| 12 | 29100500 | 8281532 | Aerator insert, 5 l/min at 200–600 kPa |