EBRO head shower set flexi
Ebro is a combined shower unit in a strict and modern design. It is very popular and the reasons are many. The function is one reason. The design and the pleasant shower experience are others. Ebro comes with both head and hand shower providing many pleasurable moments in the shower.
Description

Chrome

Article number

93936000
PROPERTIES
With hand shower and diverter
Both head and hand shower have Eco Flow 12 l/min
Anti lime-scale head- and hand shower
With soap dish
Connector with hose for mounting on mixers with downwards outlets
Adjustable wallbracket with sealing
Shower pipe can be shortened if required
DOCUMENTS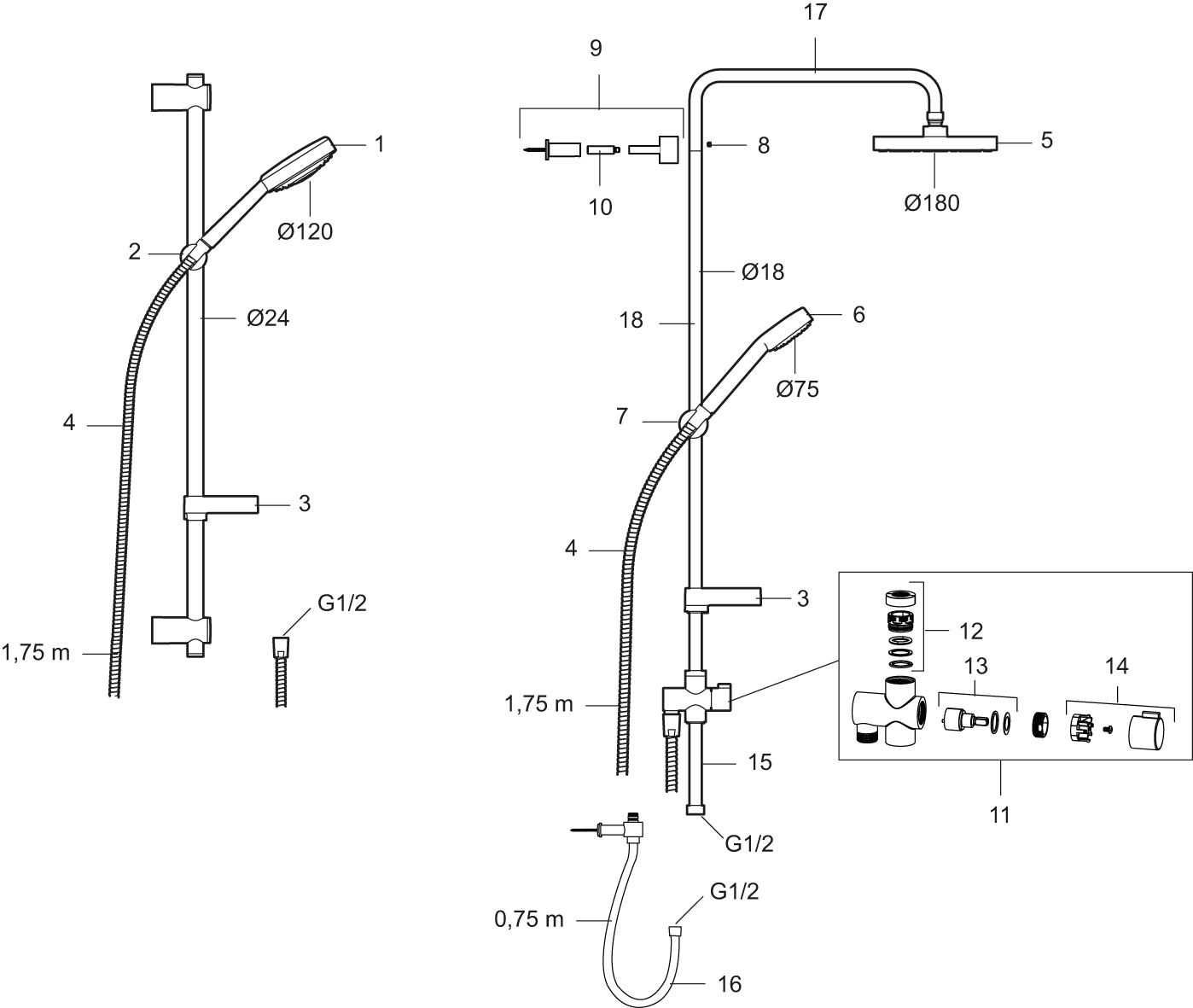 Enter your e-mail address, then the parts list will be sent to your inbox.
| No. | FMM No. | RSK | Description |
| --- | --- | --- | --- |
| 1 | 93450000 | 8183702 | Hand shower |
| 2 | 93780000 | 8185671 | Slider |
| 3 | 96720000 | 8190731 | Wall bracket |
| 4 | 94642000 | 8185687 | Soap dish |
| 5 | 34841750 | 8181618 | Shower hose, chrome |
| 6 | 93992000 | 8180647 | Shower head |
| 7 | 94661000 | 8183679 | Hand shower |
| 8 | 94670000 | 8185683 | Slider |
| 9 | 38082000 | 8221717 | Stop screw |
| 10 | 58950000 | 8180414 | Wall bracket |
| 11 | 27923500 | 8180415 | Extender, 25 mm |
| 12 | 58903000 | 8190747 | Diverter, complete |
| 13 | 58961000 | 8221708 | Repair kit for diverter |
| 14 | 59071000 | 8221706 | Cartridge |
| 15 | 59081000 | 8221707 | Handle |
| 16 | 58920100 | 8189019 | Extension bar |
| 16 | 58920559 | 8189017 | Extension bar, L: 550 mm |
| 17 | 93971000 | 8189020 | Connecting hose |
| 18 | 58941350 | | Upper bar |
| 19 | 58930959 | 8189001 | Lower bar, L=950 mm |