Shower set Ebro
FM Mattsson Ebro you can choose between three different jets, one of which is extra soft and especially suitable as a baby shower. It's all our showers lime resistant strain of longevity.
Description

Chrome

Article number

93401000
PROPERTIES
Anti lime-scale hand shower with Eco Flow 12 l/min, with 3 shower jet settings
With baby shower function
With soap dish
Shower bar with slider and flexible wall brackets with sealing
DOCUMENTS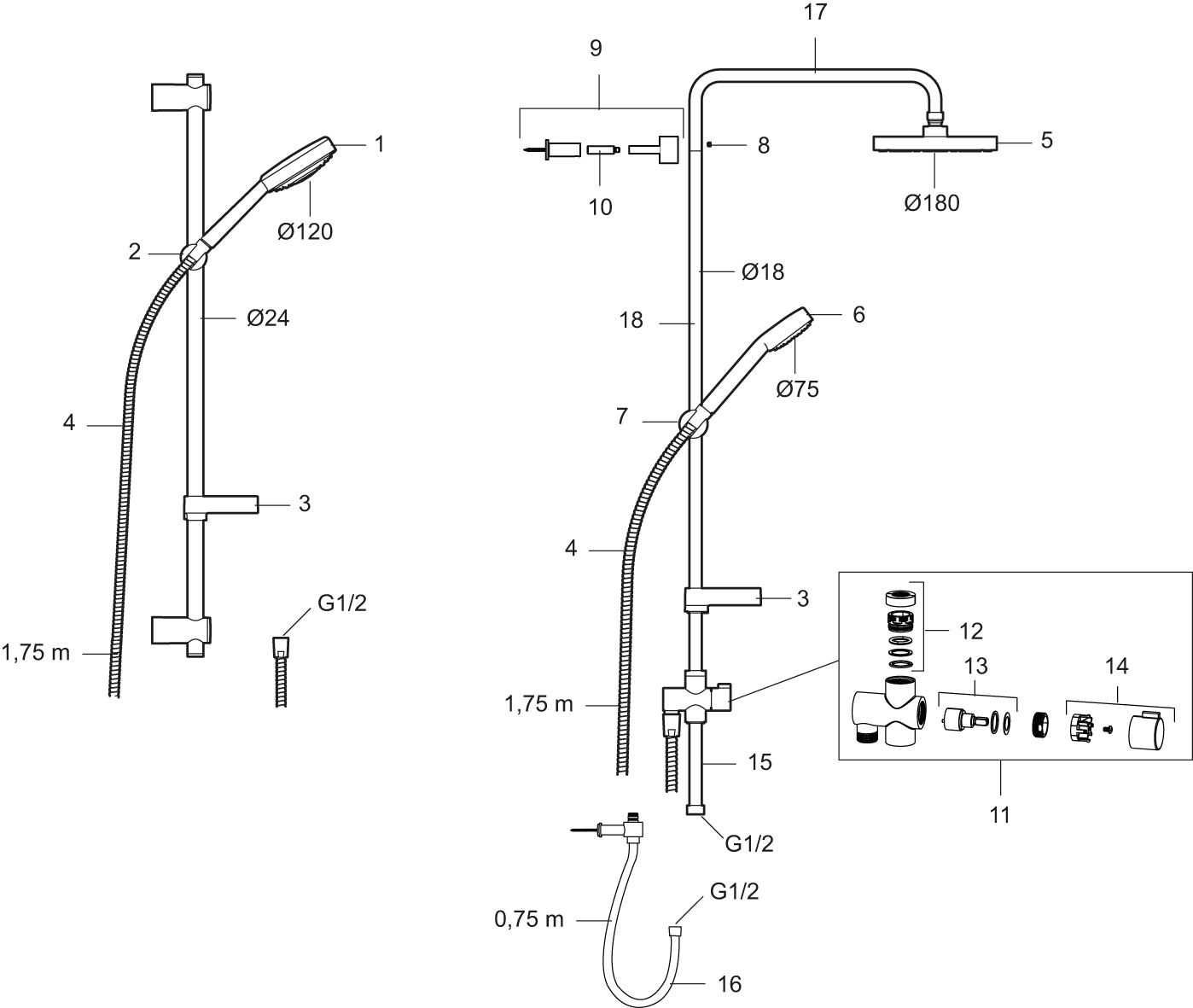 Enter your e-mail address, then the parts list will be sent to your inbox.
| No. | FMM No. | RSK | Description |
| --- | --- | --- | --- |
| 1 | 93450000 | 8183702 | Hand shower |
| 2 | 93780000 | 8185671 | Slider |
| 3 | 96720000 | 8190731 | Wall bracket |
| 4 | 94642000 | 8185687 | Soap dish |
| 5 | 34841750 | 8181618 | Shower hose, chrome |
| 6 | 93992000 | 8180647 | Shower head |
| 7 | 94661000 | 8183679 | Hand shower |
| 8 | 94670000 | 8185683 | Slider |
| 9 | 38082000 | 8221717 | Stop screw |
| 10 | 58950000 | 8180414 | Wall bracket |
| 11 | 27923500 | 8180415 | Extender, 25 mm |
| 12 | 58903000 | 8190747 | Diverter, complete |
| 13 | 58961000 | 8221708 | Repair kit for diverter |
| 14 | 59071000 | 8221706 | Cartridge |
| 15 | 59081000 | 8221707 | Handle |
| 16 | 58920100 | 8189019 | Extension bar |
| 16 | 58920559 | 8189017 | Extension bar, L: 550 mm |
| 17 | 93971000 | 8189020 | Connecting hose |
| 18 | 58941350 | | Upper bar |
| 19 | 58930959 | 8189001 | Lower bar, L=950 mm |