Shower set 9000E
9000E shower setAn optimal fusion of design and function. The FM Mattsson 9000E range ushers in a new generation of mixers/showers that are environmentally engineered down to the last detail. Even in its basic version, the mixer has our unique functions that ensure a constant water temperature and safe, reliable function.

Description

Chrome

Article number

94701000
PROPERTIES
Anti lime-scale hand shower with Eco Flow 9 l/min
With transparent soap dish
Shower bar with slider and flexible upper wall brackets with sealing
DOCUMENTS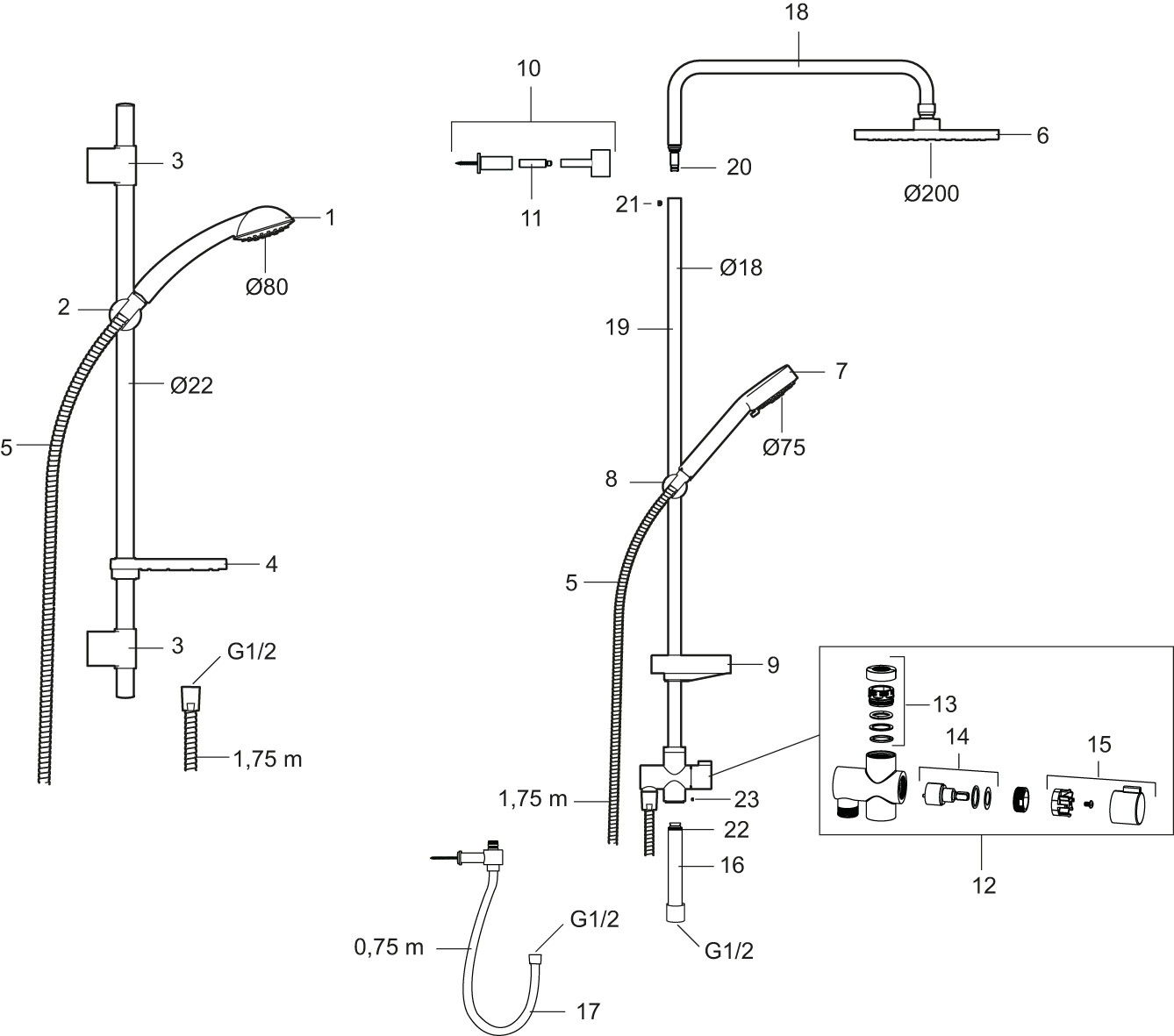 Enter your e-mail address, then the parts list will be sent to your inbox.
| No. | FMM No. | RSK | Description |
| --- | --- | --- | --- |
| 1 | 94750900 | 8199210 | Hand shower |
| 1 | 94753900 | 8199211 | Hand shower, 3 shower jet settings |
| 2 | 94780000 | 8185685 | Slider |
| 3 | 83710000 | 8186586 | Wall bracket |
| 4 | 94790000 | 8185648 | Soap dish, transparent |
| 5 | 34841750 | 8181618 | Shower hose, chrome |
| 6 | 93991000 | 8180619 | Shower head |
| 7 | 93840900 | 8199217 | Hand shower |
| 8 | 94671000 | 8183708 | Slider |
| 9 | 93441000 | 8185649 | Soap dish |
| 10 | 58950000 | 8180414 | Wall bracket |
| 11 | 27923500 | 8180415 | Extender, 25 mm |
| 12 | 58903000 | 8190747 | Diverter, complete |
| 13 | 58961000 | 8221708 | Repair kit for diverter |
| 14 | 59071000 | 8221706 | Cartridge |
| 15 | 59081000 | 8221707 | Handle |
| 16 | 58920100 | 8189019 | Extension bar |
| 17 | 93971000 | 8189020 | Connecting hose |
| 18 | 58941350 | | Upper bar |
| 19 | 58930959 | 8189001 | Lower bar, L=950 mm |
| 20 | 37800938 | 8592017 | O-ring 7,1 x 1,6, 2 pcs |