Shower mixer Origo
Origo mixers combine creative visual design with practical functions for safe, ergonomic use. All the control knobs are rubber-coated, making them easy to grip and use. Pleasing to the eye – comfortable for the hand. Accurate temperature and pressure control guarantees unbeatable shower comfort.

Description

Chrome

Article number

94801530
PROPERTIES
With shower connection down
Pressure balanced thermostatic mixer
Temperature handle with safety stop at 38°C
Approved non-return valves, EN-Standard EN1717
Backflow protection unit type

DOCUMENTS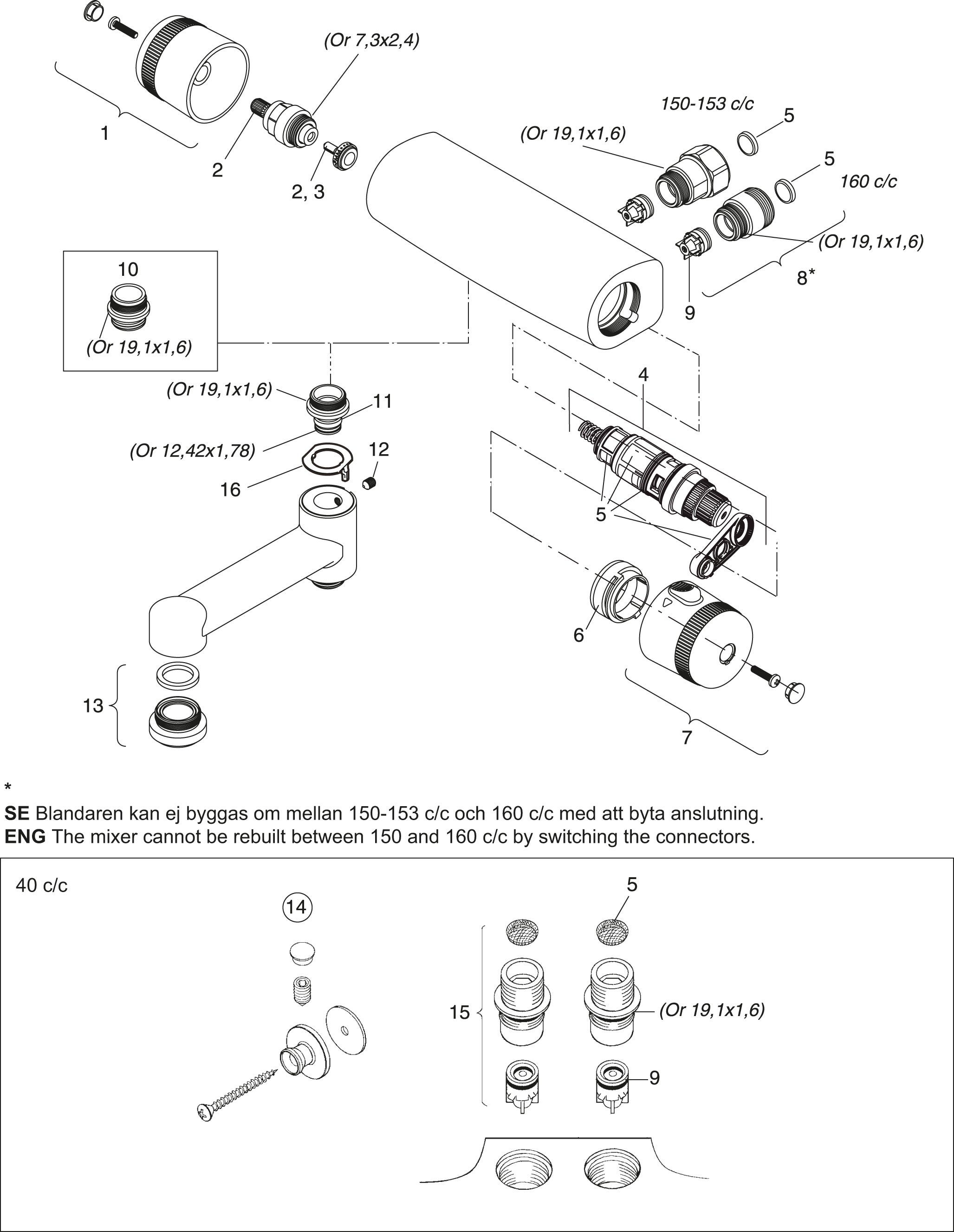 Enter your e-mail address, then the parts list will be sent to your inbox.
| No. | FMM No. | RSK | Description |
| --- | --- | --- | --- |
| 1 | 35460000 | 8591514 | On/off handle, chrome |
| 2 | 35201400 | 8585846 | On/off headwork with valve cone |
| 3 | 36001500 | 8913411 | Valve cone |
| 3 | 36001549 | 8913436 | Valve cone, 10 pcs |
| 4 | 38601009 | 8591609 | Thermostatic cartridge, complete, incl. service tool |
| 5 | 38680009 | 8591701 | Filter kit incl. o-rings and service tool |
| 6 | 38520007 | 8591592 | Scalding protection ring, standard (black) |
| 7 | 35470000 | 8591515 | Temperature handle, chrome |
| 8 | 59800000 | 8591543 | Inlet connectors, 160 c/c |
| 8 | 59810000 | 8591544 | Inlet connectors 150-153 c/c (left-handed thread) |
| 9 | 29830529 | 8591702 | Non-return valves, 2 pcs |
| 10 | 39710000 | 8591571 | Nipple M22x1-G1/2 for shower mixer |
| 11 | 39753000 | 8591516 | Nipple for spout |
| 12 | 38086000 | 8439701 | Locking screw |
| 13 | 29030000 | 8242087 | Aerator M28 ext., 24–26 l/min at 300 kPa |
| 14 | 29712000 | 8591530 | Wall bracket for 40 c/c mixers, complete |
| 15 | 59820000 | 8591545 | Inlet connector for 40 c/c mixer |
| 16 | 38521000 | 8295345 | Stop ring |