GARDA shower mixer
FM Mattsson Garda is an intelligent bath and shower mixer that perfectly juxtaposes clean, elegant design with outstanding function. In addition to familiar functions such as constant water temperature and guaranteed function even if your water is hard, the mixer has an intelligent energy saving function and an upgraded hot water lock.

Description

Chrome, 40 c/c, pipe connection up

Article number

96860000
PROPERTIES
Note! 40 c/c
With shower connection down
Pressure balanced thermostatic mixer
With ceramic sealed headwork
With wall fixing
Temperature handle with safety stop at 38°C
With Eco-function
Approved non-return valves, EN-Standard EN1717
Shower outlet projection from wall: 54 mm
Backflow protection unit type

DOCUMENTS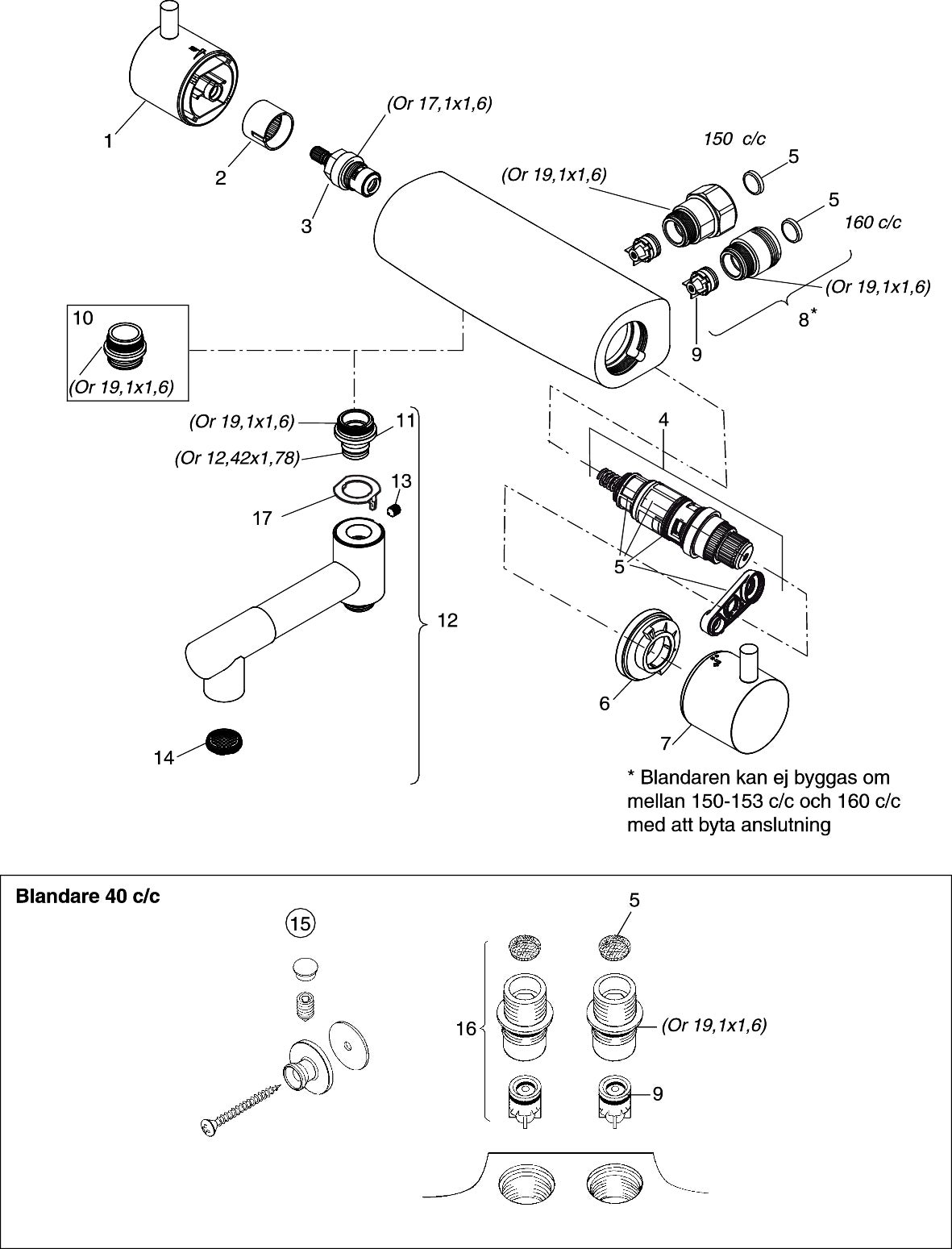 Enter your e-mail address, then the parts list will be sent to your inbox.
| No. | FMM No. | RSK | Description |
| --- | --- | --- | --- |
| 1 | 35730000 | 8591928 | On/off handle |
| 2 | 35710000 | 8591929 | Eco indicating sleeve |
| 3 | 35900000 | 8586325 | Ceramic on/off headwork |
| 4 | 38601009 | 8591609 | Thermostatic cartridge, complete, incl. service tool |
| 5 | 38680009 | 8591701 | Filter kit incl. o-rings and service tool |
| 6 | 59590000 | 8591930 | Scalding protection ring |
| 7 | 35740000 | 8591931 | Temperature handle |
| 8 | 59800000 | 8591543 | Inlet connectors, 160 c/c |
| 8 | 59810000 | 8591544 | Inlet connectors 150-153 c/c (left-handed thread) |
| 9 | 29830529 | 8591702 | Non-return valves, 2 pcs |
| 10 | 39710000 | 8591571 | Nipple M22x1-G1/2 for shower mixer |
| 11 | 39753000 | 8591516 | Nipple for spout |
| 12 | 96990000 | 8154058 | Swivel spout with integrated diverter |
| 13 | 38086000 | 8439701 | Locking screw |
| 14 | 59552410 | 8242172 | Aerator M24 ext., without air admixture |
| 15 | 29712000 | 8591530 | Wall bracket for 40 c/c mixers, complete |
| 16 | 59820000 | 8591545 | Inlet connector for 40 c/c mixer |
| 17 | 38521000 | 8295345 | Stop ring |