SILJAN duo flexi kitchen mixer
Although the mixers look the same as usual on the outside, sophisticated electronic functions are hidden beneath the surface. The SILJAN duo flexi mixer has a traditional lever function as well as a modern sensor role. The touchless function is practical because the mixer automatically turns on the water when it detects your hands in front of the sensor. SILJAN duo flexi have a detachable nozzle and a choice of jet settings. The mixer keeps your hands clean and helps control bacteria, and also saves water. Simple, durable and above all hygienic!
Description

Chrome, battery operation (included battery) and electronic dishwasher cut-off valve

Article number

83130010
PROPERTIES
EcoSafe® mixer
Cold Start
Ceramic cartridge with soft closing function
Adjustable flow control and temperature limiter
Eco Flow (energy and water saving aerator)
Nozzle with concentrated jet and handshower
Swivel spout, limitation part for 60°, 85°, 110° or 360° included
Flush Timeout - safety shut-off to prevent flooding
Can be turned off for 5 min. (eg for cleaning)
Low power consumption - Long life
IP class sensor, IP67
Approved non-return valves, EN-Standard EN1717

Installation:
Automatic sensor calibration
All models can be adapted for either battery 6V or mains operation 12V AC/DC
Mains operation requires installation of the AC adapter FMM 1623-0000, and power supply FMM 1619-4000 alternatively transformer FMM 1619-3000
Soft PEX® hoses with 3/8" connecting nut (stainless steel braided)
Hole diameter Ø34-37 mm

Settings:
Programmable detection distance
Adjustable flush time

Electronic dishwasher cut-off valve:
The touch button is mounted in the sink plate or countertop, panel thickness 0–40 mm
Colour indicator for mode selection
Automatic shut-off after 3 or 12 hours
Supplied with battery, 9V
Connection G1/2
Backflow protection unit type

DOCUMENTS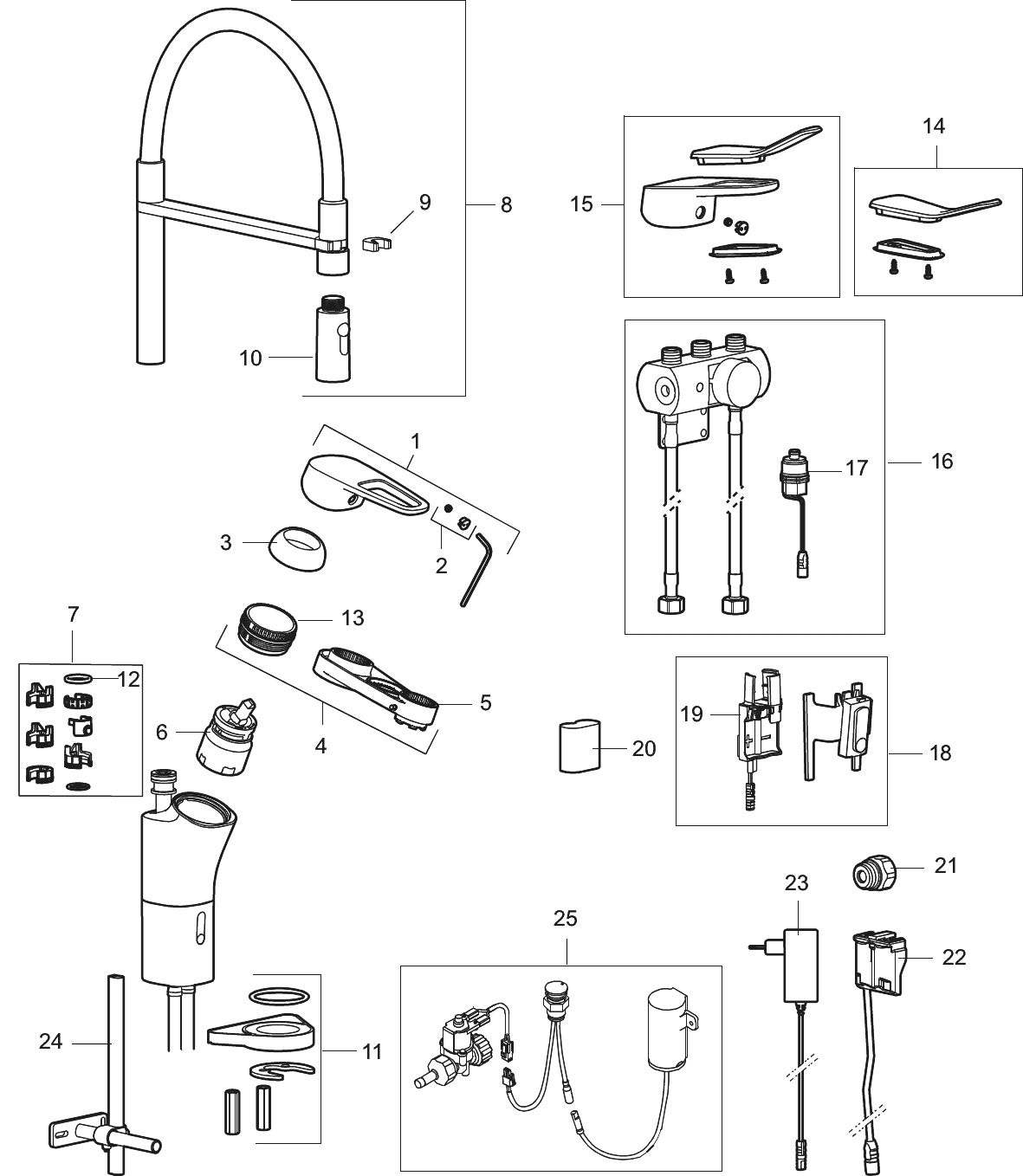 Enter your e-mail address, then the parts list will be sent to your inbox.
| No. | FMM No. | RSK | Description |
| --- | --- | --- | --- |
| 1 | 58501000 | 8592023 | Complete lever, chrome |
| 2 | 58511000 | 8592021 | Cover lid with colour marking |
| 3 | 58521000 | 8592020 | Cover sleeve, chrome |
| 4 | 58530140 | 8241726 | Fastening nipple with service tool |
| 5 | 60770000 | 8591918 | Service tool |
| 6 | 59120009 | 8591949 | Ceramic cartridge with service tool, cold start (green ring) |
| 7 | 58641000 | 8594560 | Lock kit for swivel spout |
| 8 | S600059 | 8394011 | Spout, complete |
| 9 | S600061 | 8393993 | Spout mount |
| 10 | S600060 | 8394012 | Nozzle |
| 11 | 39142800 | 8186893 | Fastening kit, for kitchen mixer with on/off valve |
| 12 | 37801550 | 8295350 | O-ring 15,54 x 2,62, 2 pcs |
| 13 | 29390000 | 8295356 | Fastening nipple |
| 14 | 35974009 | 8592038 | Care-kit |
| 15 | 58504000 | 8592049 | Care-lever, complete |
| 16 | 16280000 | 8483159 | Mixing valve (for basin mixer), Lead Free |
| 17 | 16201000 | 8553500 | Solenoid valve |
| 18 | 16272000 | | Sensor |
| 19 | 16223000 | | Battery holder |
| 20 | 16361000 | 8553510 | Battery |
| 21 | S600141 | 8229257 | Transition nipple |
| 22 | 16230000 | 8553506 | AC adapter |
| 23 | 16194000 | 8553499 | Power supply 12V |
| 24 | 39147000 | 8592050 | Stabilizer kit |
| 25 | 35010000 | 8394002 | Electronic dishwasher cut-off valve |