Thermostatic mixer MORA MMIX SAFE
Mora MMIX combines elegance and ergonomic design with energy-efficiency.
The Mora MMIX thermostats are equipped with Safe Touch, which means that the outside of the mixer remains relatively cool to touch. Products with the Safe Touch function is suitable for environments with specific requirements, for example within nursing homes and public facilities.
The mixers were developed according to our unique EcoSafe™ concept focusing on low energy consumption and long-term environmental care.
The mixer is lead-free.
Description

Chrome, incl. s-connection (2x701001)

Article number

731101.SA
PROPERTIES
With shower connection down
Pressure balanced thermostatic mixer
Temperature handle with safety stop at 38°C, maximum temperature at 43°C
With Eco-function
Lead Free material
Equipped with function for thermal disinfection against legionella
Approved non-return valves, EN-Standard EN1717
DOCUMENTS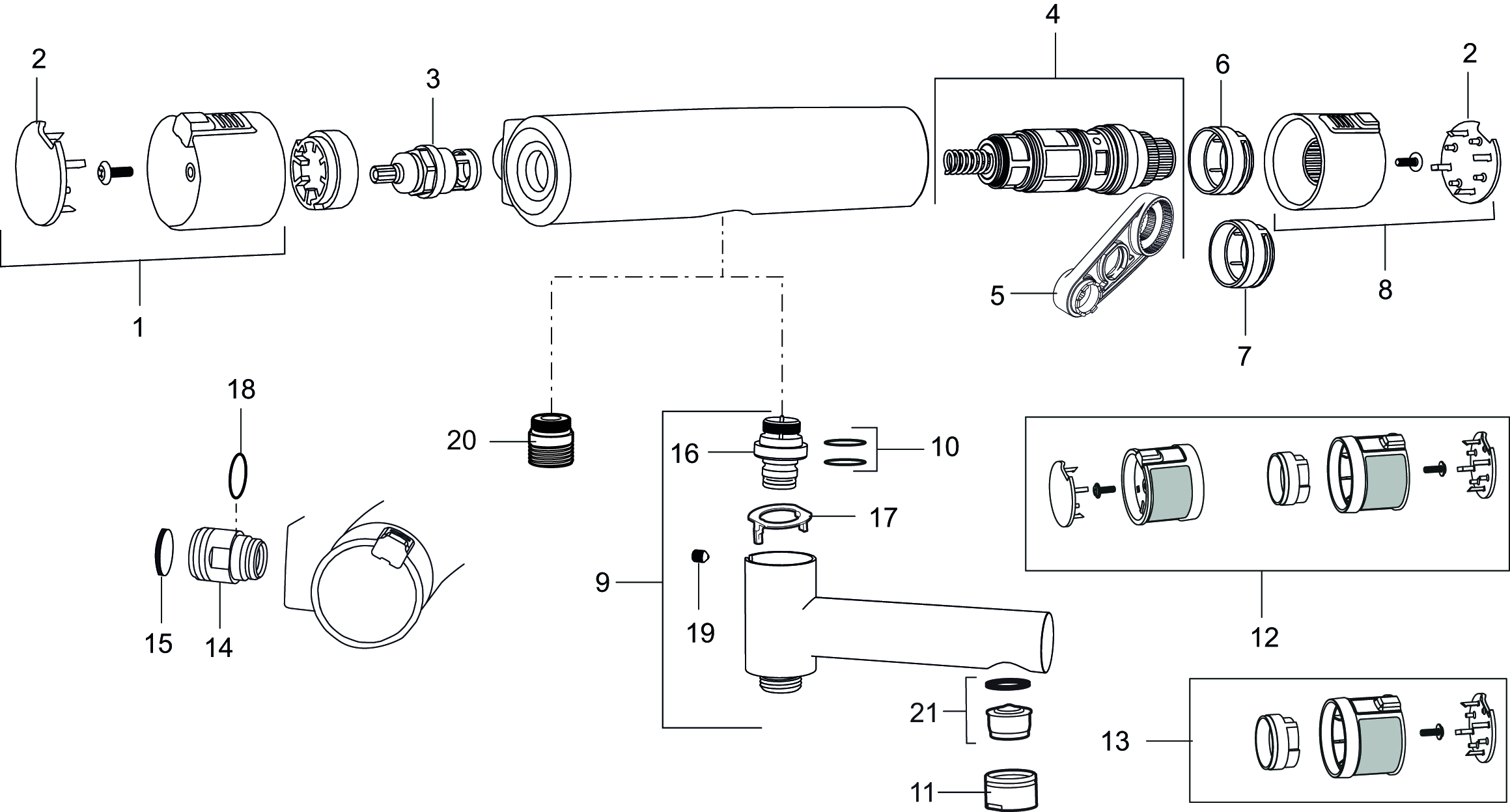 Enter your e-mail address, then the parts list will be sent to your inbox.
| No. | FMM No. | RSK | Description |
| --- | --- | --- | --- |
| 1 | 409353.AA | 8345088 | On/off handle, complete, chrome, retail packed |
| 1 | 409353.0011AA | 8345087 | On/off handle, complete, chrome/black, retail packed |
| 2 | 409358.AA | 8345089 | End cover, chrome, retail packed |
| 2 | 409358.0011AA | 8345090 | End cover, black, retail packed |
| 3 | 409354.AA | 8345137 | Ceramic headwork, retail packed |
| 4 | 409355.AE | 8345136 | Thermostatic cartridge, complete, with service tool |
| 5 | 891096.AE | 8345921 | Service tool |
| 6 | 409363.AE | 8346505 | Scalding protection ring, (standard) |
| 7 | 409364.AE | 8346506 | Scalding protection ring, (max 42 °C) |
| 8 | 409352.AA | 8345086 | Temperature handle, complete, chrome, retail packed |
| 8 | 409352.0011AA | 8345085 | Temperature handle, complete, chrome/black, retail packed |
| 9 | 409356 | 8344853 | Swivel spout, for coversion of shower mixer to bath/shower mixer, chrome |
| 10 | 209519.AE | 8938340 | O-ring, for swivel spout |
| 11 | 131415.AE | 8281512 | Housing M24 utv., 15 mm, chrome |
| 12 | 409370.AA | 8345139 | Rebuild kit, care, black/chrome, retail packed |
| 12 | 409370.0085AA | 8345162 | Rebuild kit, care, lime/black, retail packed |
| 12 | 409370.0095AE | 8345210 | Rebuild kit, care, red/black |
| 13 | 409440.AE | 8345211 | Rebuild kit with fixed temp. stop, care, chrome |
| 13 | 409440.0085AE | 8345212 | Rebuild kit with fixed temp. stop, care, chrome/lime |
| 14 | 409360.AA | 8187781 | Inlet connector 150 c/c (left-handed thread), retail packed |
| 14 | 409361.AA | 8187782 | Inlet connector 160 c/c, retail packed |
| 15 | 409359.AA | 8345172 | Filter kit for connecting links, retail packed |
| 16 | 409366.AE | | Nipple M18x1 with o-ring for bath mixer |
| 17 | 129154.AE | 8295332 | Stop ring |
| 18 | 129131.AE | 8295316 | O-ring (18,1 x 1,6), 2 pcs |
| 19 | 708655.AE | 8295447 | Locking screw |
| 20 | 409365.AE | 8187026 | Nipple M18x1 - G1/2 |
| 21 | 139783.AE | 8281546 | Aerator inlet, 20–24 l/min at 300 kPa |