MEDICARE tronic WMS basin mixer, mains operation
The touch-free MEDICARE Tronic WMS basin mixer satisfies all hygiene requirements in the market. Made from a lead-free material, it has a smooth, clean-lined design. Joints have been kept to a minimum for easier cleaning and use. The connection tubes have new protective sleeving and the aerator has no air admixture, thus reducing the risk of spreading bacteria. The sensor-controlled function improves hygiene by allowing you to use your tap without touching it.
And to obtain even more advanced functionality, the mixer can be connected to our innovative digital cloud service, Tronic WMS. This allows the mixers to be monitored, analysed and evaluated, providing valuable information which can be used to improve operation and use.
Read more about the benefits of connected mixers.
About the collection
The FM Mattsson MEDICARE collection has been designed in close collaboration with healthcare experts. The MEDICARE collection places emphasis on hygiene, accessibility and sustainability and is designed to meet the specific needs of the healthcare sector while making daily life easier for users with impaired mobility or orientation capacity.
Description

Chrome, mains operation (without transformer)

Article number

16414100
PROPERTIES
Aerator without air admixture, constant flow 6 l/min at 200–600 kPa
Flexible connection tubes in stainless steel braided Soft PEX® with 3/8" connecting nut, with protective plastic covering for improved hygiene and easier cleaning
Hygienic design, joints kept to a minimum
WMS mixer tap with the option of wireless connection to our Tronic WMS system or programming via a dongle.
Hygiene flushing function for minimising bacterial growth in the water system.
Soft closing solenoid valve
Flush Timeout - safety shut-off to prevent flooding
Rinse time
Cleaning mode, time-limited shut-off for cleaning
Equipped with system for thermal disinfection against legionella
IP class sensor, IP67
Approved non-return valves, EN-Standard EN1717
Environmental friendly material, Lead free, Nickel Free

Installation:
Temperature knob can be removed and replaced with a cover (included)
Mains operation requires installation of the power supply FMM 1619-4000, alternatively transformer FMM 1619-3000
Hole diameter Ø33,5-37 mm

Functions via Tronic WMS/dongle:
Programmable of:
- Flush Timeout
- Rinse time
- Hygiene flushing, interval and flush time
- Maximum temperature
- Initiation of thermal disinfection
Additional functions with Tronic WMS:
- Operational monitoring (flushings, water consumption and temperature, battery status, etc.)
- Logging of all events
- Alarm via SMS or email
- Documentation and report function
Backflow protection unit type


DOCUMENTS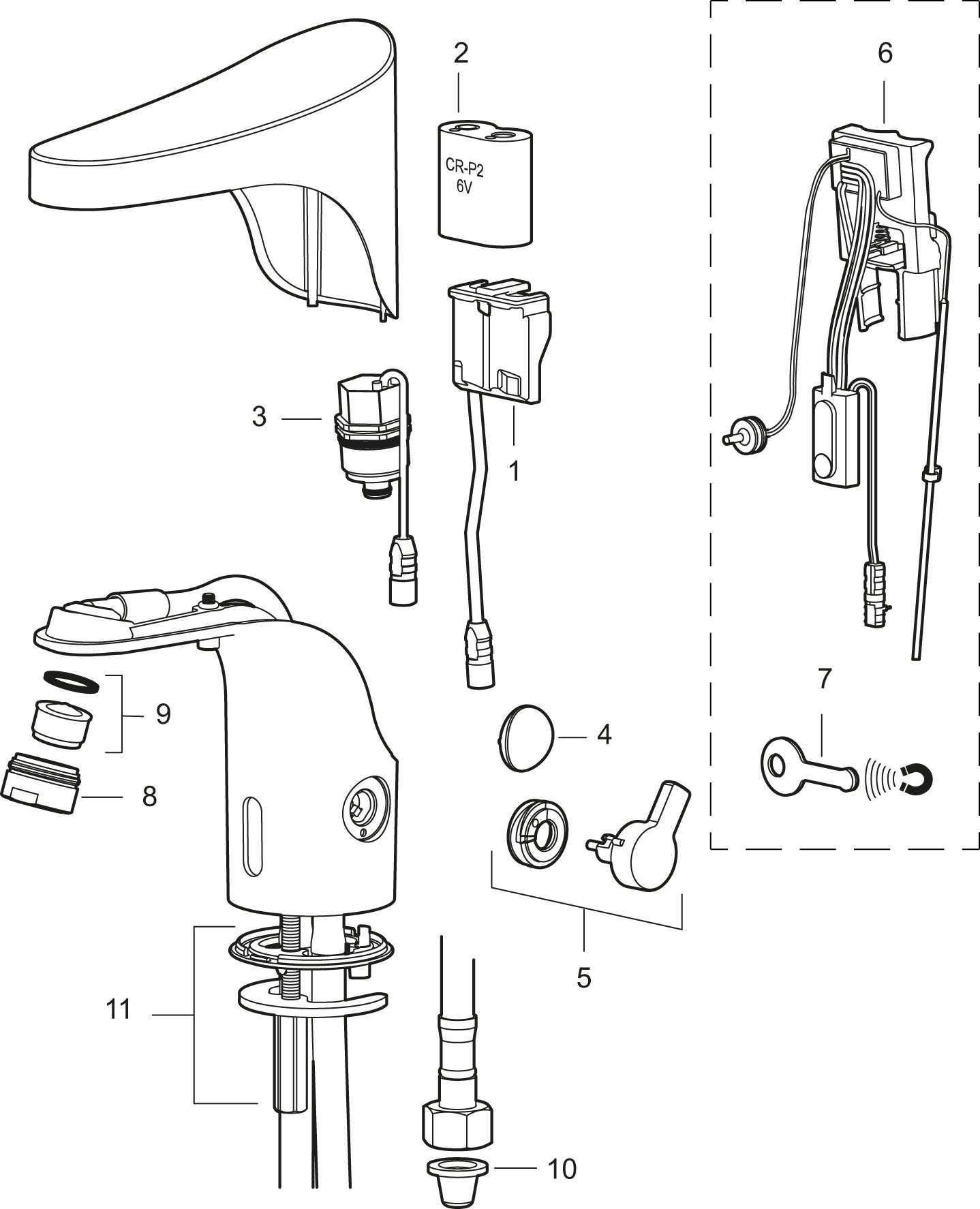 Enter your e-mail address, then the parts list will be sent to your inbox.
| No. | FMM No. | RSK | Description |
| --- | --- | --- | --- |
| 1 | 16230000 | 8553506 | AC adapter |
| 2 | 16361000 | 8553510 | Battery |
| 3 | 16201000 | 8553500 | Solenoid valve |
| 4 | 16222000 | 8553505 | Cover plug |
| 5 | 16221000 | 8553504 | Lever |
| 6 | 16216100 | 8438811 | Electronic unit, for WMS mixer |
| 7 | 60775000 | | Service magnet |
| 8 | 29142400 | 8281526 | Housing M24 ext., 13 mm |
| 9 | 29100550 | 8281531 | Aerator insert, 5 l/min at 200–600 kPa |
| 10 | 38800009 | 8295340 | Filter kit Soft PEX 3/8", 2 pcs |
| 11 | 39141600 | 8553512 | Fastening kit |