9000E shower mixer (Antibactus)
An optimal fusion of design and function. The FM Mattsson 9000E range ushers in a new generation of mixers that are environmentally engineered down to the last detail. Even in its basic version, the mixer has our unique functions that ensure a constant water temperature and safe, reliable function. A new feature of these mixers is a cool mixer body. You'll never burn yourself on a 9000E mixer. Ergonomic grooved knobs make it easy to set the temperature and flow.
Description

Chrome, 150 c/c, incl. 2 x S-connectors

Article number

82106600
PROPERTIES
EcoSafe® mixer
With shower connection down
Pressure balanced thermostatic mixer
With ceramic sealed headwork
Equipped with system for thermal disinfection against legionella
Temperature handle with safety stop at 38°C
Approved non-return valves, EN-Standard EN1717

Backflow protection unit type

DOCUMENTS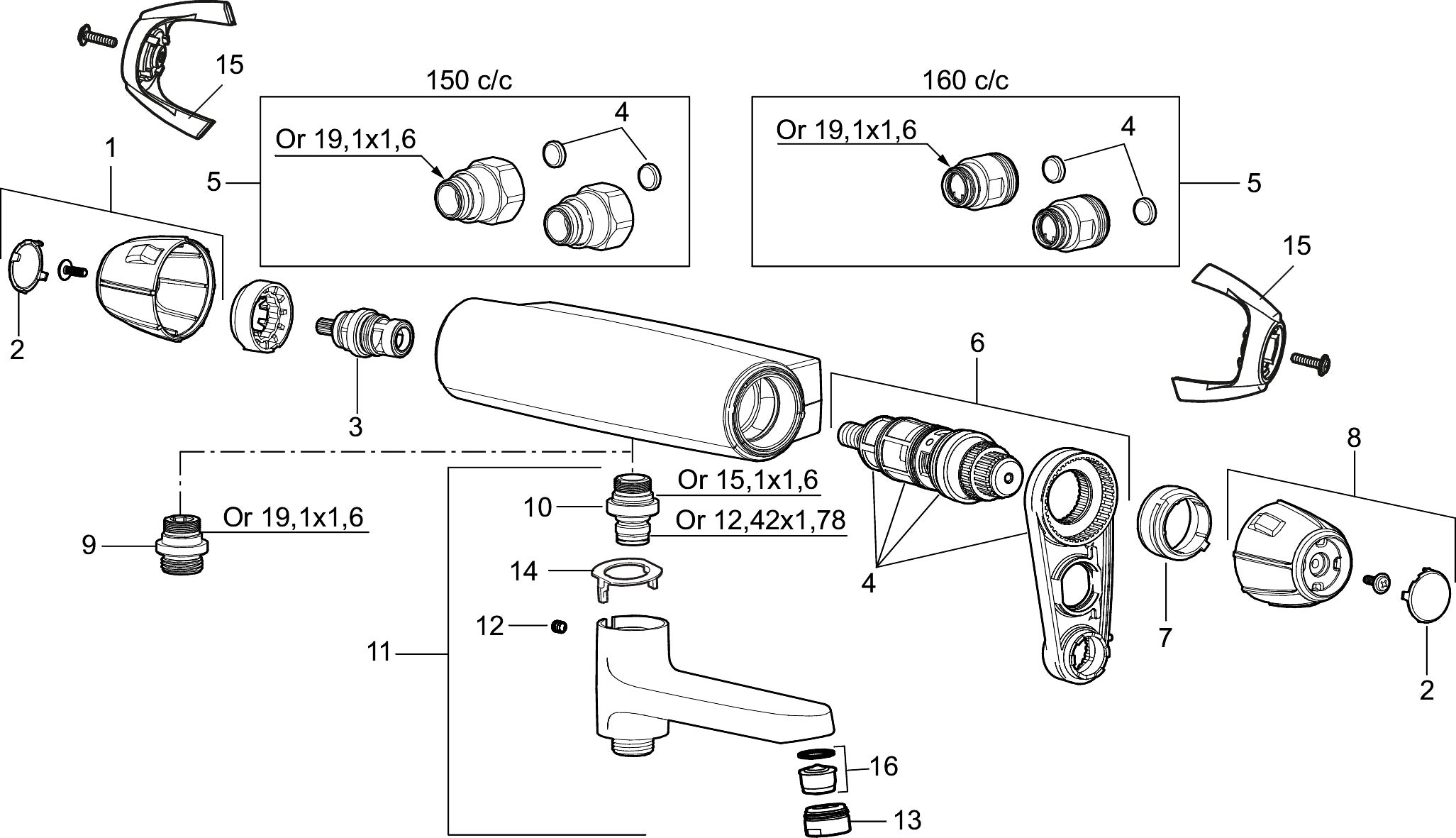 Enter your e-mail address, then the parts list will be sent to your inbox.
| No. | FMM No. | RSK | Description |
| --- | --- | --- | --- |
| 1 | 35782009 | 8592061 | On/off handle, complete |
| 2 | 39031006 | 8592062 | Cover, black, 2 pcs |
| 3 | 35900800 | 8585849 | Ceramic on/off headwork |
| 4 | 38680009 | 8591701 | Filter kit incl. o-rings and service tool |
| 5 | 59810800 | 8592006 | Inlet connectors 150 c/c (left-handed thread) |
| 5 | 59800800 | 8592005 | Inlet connectors, 160 c/c |
| 6 | 38601009 | 8591609 | Thermostatic cartridge, complete, incl. service tool |
| 7 | 38520007 | 8591592 | Scalding protection ring, standard (black) |
| 7 | 38520005 | | Scalding protection ring, max 38 °C, white |
| 8 | 35782109 | 8592063 | Temperature handle, complete |
| 8 | 35780150 | | Temperature handle, complete, max 38 °C |
| 9 | 39710800 | 8591967 | Nipple M18x1-G1/2 for shower mixer |
| 10 | 39754000 | 8591969 | Nipple M18x1 with o-ring for bath mixer |
| 11 | 82990000 | 8154073 | Swivel spout with integrated diverter |
| 12 | 38086000 | 8439701 | Locking screw |
| 13 | 29142400 | 8281526 | Housing M24 ext., 13 mm |
| 14 | 38521000 | 8295345 | Stop ring |
| 15 | 35970150 | 8592055 | Care-handle, black, 2 pcs |
| 16 | 29102650 | 8281547 | Aerator insert, 20–24 l/min at 300 kPa |